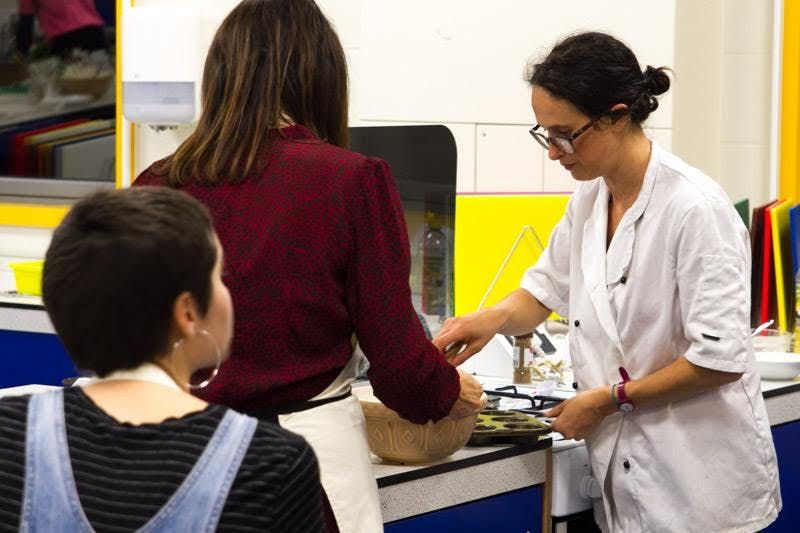 Prendergast Vale School, Elmira Street, London, United Kingdom
Greenwich Pantry
Spread the word
Getting ready for adult life is an exciting time but rather daunting for a young person. Leaving home with little kitchen and cooking skills abcan be a worry for both parents, carers and young people themselves.
This extended cooking workshop run by Greenwich Pantry's Cook & Eat team is perfectly put together to help prepare for independent living as well as Uni life so that young people can make the most of their time away from home. 
Our workshop will help participants gain a solid overview of how to manage their time in the kitchen and gain essential skills for healthy living. Participants can kiss goodbye to fish and chips every night of the week and learn how to keep an exciting food pantry instead.
Our expert chefs will show how to plan meals and cook delicious recipes using ingredients that are easily accessible, share tips on cooking within healthy guidelines and 'wow' you with colourful nutrient rich food that they can replicate at home. We discuss label reading and how best to avoid unnatural E numbers that every body can do without.
Learning new things about food is fun and will lead to endless possibilities. With great group discussions this course will help everyone interested to learn kitchen and cooking skills for independent living as a student or young person.
Working with our experienced instructors, participants leave with a sense of accomplishment and more importantly, the confidence to plan, cook, and bake on their own.
Class snapshot 
Here's what to expect in this course
Soft Drinks and nibbles throughout to keep you going
Approachable and welcoming host team
Easy to understand demonstration and instructions 
A well rounded overview of essential kitchen skills and cooking techniques to survive independent living
Food to take home 
Hands-on cooking - individual and team work
Recipes to your inbox and in class
Meal Planning and shopping tips, shortcuts and best buys to stay in budget and health
All facilities, equipment ingredients and handouts are included
Skills acquired
Meal planning, baking skills, knife skills, healthy eating and food preservation skills.
Ability to shop and cook on your own 
Ability to improve your own recipes and be creative
Ability to prepare food, with good quality, easily accessible ingredients 
Food Prepared (typically)
One pot main dish eg Spanish Citrus Chicken 
Seasonal Vegetables
Bread Making
Pie Making 
Course location: Food Tech Room, Prendergast Vale College, Elmira Street, London SE13 7BN 
This class is also available for private groups contact us by email info | greenwichpantry ! com for more information.
Buying a class as a gift? 
If you want to buy a class as a present but not sure what your gifted would like, then you can buy a monetary voucher that is redeemable within 12 months from our voucher shop
tpro.co.uk/