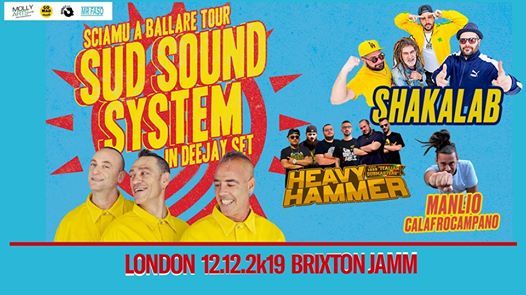 Brixton Jamm, 261 Brixton Road, SW9 6LH London, United Kingdom, London, United Kingdom
Sud Sound System Official
Spread the word
GoMad Events, Molly Arts Live, MR FASO & Beatbuzz are proud to present you an incredible LIVE show coming all the way from South Italy to the Brixton Jamm on the 12th of December 2019:
Sud Sound System Official Live in Dj Set
Shakalab Live
HEAVY HAMMER SOUND SYSTEM
MANLIO Calafrocampano backed by Fenomeno show
Rah.Stars
_ _ _ _ _ _ _ _ _ _ _ _ _ _ _ _ _ _ _ _ _ _ _ _ _ _
Tickets £15 / £20:
http://bit.ly/SSSLondon
http://bit.ly/SSSseetickets
_ _ _ _ _ _ _ _ _ _ _ _ _ _ _ _ _ _ _ _ _ _ _ _ _ _
Italian reggae ambassadors in the world, Sud Sound System are back to London!
Three years after their last album, Sud Sound System are now back with their 10th album after having performed in the most important European capital cities and for their first time in Jamaica. 16 musical tracks full of meaningful messages and deep emotions that confirm them as ambassadors of the Reggae music in Italy and around the world and main proponents of those unique sounds made in Salento.
The album reveals the double face of the artists who identify themselves with rebellious and angry bandits as well as dreamers and lovers looking for a balance in today's society.
"Eternal Vibes" is an invitation for people to free themselves from the lies of the system and to question all the rhetorics and clichés. It is therefore an album of social protest: a protest against the institutions' total disinterest towards the problems of young people ("alle pezze", "cose de pacci") as well as a protest against the supremacy of banks and multinational corporations. Generally speaking, it is against today's violence concealed by the hypocrisy of the Church and institutionalized religions ("A nome de Diu). At the same time it is also an album of love songs and rediscovery of their own land enriched by the cooperation of several artists such as Enzo Avitabile, U-Roy, Anthony B, Freddy Mc Gregor and Wild Life.
Plus support from:
♫ Shakalab Live
♫ HEAVY HAMMER SOUND SYSTEMr
♫ MANLIO Calafrocampano
♫ Rah.Stars
Thanks to Unity Radio London for the support.
Brixton Jamm
261 Brixton Road
SW9 6LH
London UK
7.00pm – 00.00am
STRICTLY OVER 18