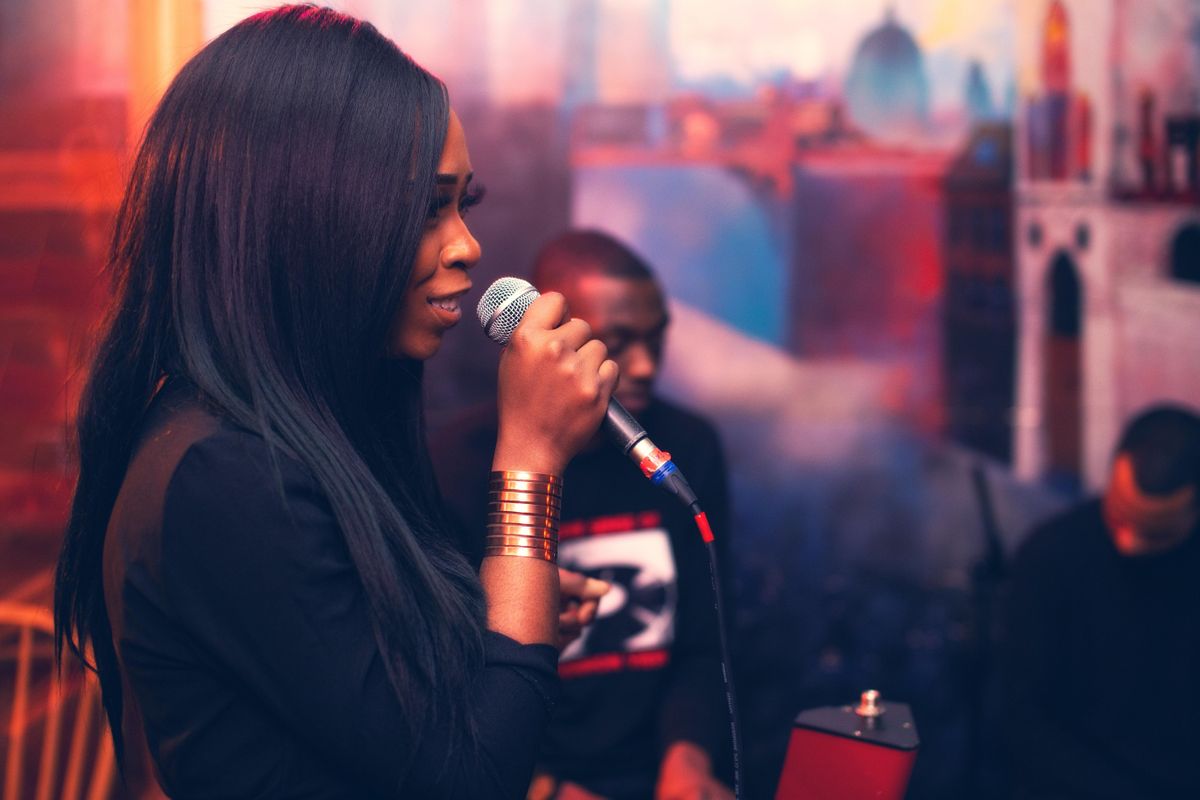 Mez Mangal Turkish Cuisine London, 379 New Cross Road, London, United Kingdom
Eventbrite
Spread the word
Cocoon Talent x Acharich present
#SurpriseLDN: CAN I GET A WITNESS? II
Creation has been waiting for this moment. Sleeping giants are being awakened & we want you present to bear witness as dreams become reality. Wait, is that another butterfly?
A night packed with expression, food, fun, networking and creativity, complete with a live band & very special guests! We hand-pick some of the finest talent with substance in the country each time, specially for you, and that's not all!
Some of the things shared, you will be the very first on the planet to publicly witness, and some of you will realise you are more blessed than you could ever have imagined. That's all we can give you for now, because the rest, as usual, is a one-time, exclusive surprise for those of you attending. Words cannot define it & walls cannot contain it. A night of refreshing, freedom, insight & empowerment.
Simply put, this is a date with destiny.  
Here's some feedback from previous #SurpriseLDN attendees:
"Wasn't sure what to expect but it was so good!" - Hannah
"Thank you so much for inviting me, it was AMAZZZZING!" - Funmi
"It was so well planned, the acts! It was so beautiful, so free & so open, in a place you wouldn't expect. It was a nice chilled vibe, a nice atmosphere & joy was present. It was good to see you in your element, I've never seen that side before. I thought it was amazing, really & truly!" - Elizabeth
"I had a blast & was so elated! It was such a blessing to have been in such a space. Such an awesome night. So different!" - Hellena
"Well done for constructing such a great concept, it was really good. Please do another one! I really enjoyed it." - Jennifer
"I definitely enjoyed the event, and it was a perfect way to end the day. Having a peaceful & electrifing atmosphere with the hard work put in & the performers created a memorable experience. That made it easier to connect with others as the energy was shared and was on the same wavelength. Connected with a lot of cool & interesting people."  - Luke
"I commend you for being able to put this together!"  - David
"It was indeed a pleasure & a big surprise; I was pleasantly surprised to see you had a full performing band & good number of singers, enough to put up a show! Look for a slightly bigger venue & keep it up! You have overcome one of the biggest obstacles on the path to success."  - Augustine
"I can really see what God can do with this. It was a blessing to be there. Go bigger & better!" - Kevin
"It was really good. Do a part two!" - Colina
"The evening was really nice, I like the idea & expressions! I think for next time, find a bigger place so that more people can come around. And start a bit early so that people can get to know each other before the music starts. I'm sure that next time is going to be a big one. Thank you!" - Arion 
"The venue was cool. I loved my table, it was vibes! You did well." - Daré
"You should make food come with the ticket, but it was honestly a great vibe coming with my partner & a great date night for us." - Lis
"The talent you have hidden under your sleeve! It HAS TO come back! God bless you." - Madina
"Great night, good venue and I liked all the performances, they were all quite personal & touching. I can't even think of any improvements as it was such a great night! Keep doing what you're doing." - Kiran
"Great talent and had a lot of fun. Should definitely do it again! It was great and I think more people would love to go." - Soolaya
"Well done. Amazing. Absolutely amazing! Can't wait for the release of that single. I'm so excited for the next event already!" - Abi
"It was inspiring and uplifting, with it being a safe space. And near the end was a good time for people to network to talk about the event and the type of stuff they work on or the industry they work in. Glad I I was invited and made it as the event was a good way to start the year & reconnect!" - LJ 
"I really liked the acoustic feel of the venue. It made it feel like a more intimate performance than a talent show or stand up event, which was nice. I also liked the flow of artist performances." - Beatrice
"Thank you! Definitely do it again." - Priscilla
"I really enjoyed myself. I'm extremely grateful to have been there. So many amazing and talented individuals. It was extremely entertaining and I would love to attend another one for sure. I loved the energy." - Araba
"I had a great time!" - Amal
"It was a nice, intimate evening. I liked the setup, the singing, the encouragement." - Victoria
"It was an honour. I enjoyed it A LOT."  - Cherlene
"Thanks for having us, we enjoyed the event!" - Cire
"It was really awesome!" - James
"It was a dream come true! Definitely a good idea. Would have been good to hear you sing." - Emmanuel
"It was a pleasure. A wonderful time. I truly thank God. Defo would be up for it again." - Murielle
"Well done! It was really good. Do it again soon, maybe on a Saturday or somewhere more Central." - Christine
We have listened to your feedback & taken it on board. We heard your cry & 4th April 2020 is set to be 10x better than our events that received all the praise above.  
PLEASE NOTE:
Each of your registrations & contributions makes a difference! Proceeds will go towards coveering costs, realising Acharich's creative vision, investing in & developing stellar / underprivileged talent with Cocoon Talent, and also making the #SurpriseLDN events bigger, better & more regular.
If you select it, the "priority seating" entitles you to a reservation of the best seats in the building & fast-track entry / queue jumping. For all other seats & standing tickets, the earlier you turn up on the night, the better view you will be able to have of all the action, as you'll be able to choose your spot on a first-come-first-serve basis on the day.
You are also welcome to sponsor others to attend, whether you are able to attend or not, via the registration options.
If you would like to attend but are having financial issues, we don't want that to be a barrier, so please get in touch. You may just have a sponsor that paid it forward!
Please ensure that you bring ID as there will be security on the door & entry will be by registration only.
Concession tickets are also available, but please ensure you are eligible if selecting, and please provide proof of your entitlement, either in advance or on the door.
If you have well-behaved children but struggle to find childcare, please let us know & we may be able to help. Children may be permitted entry.
There will also be an open mic segment, so please state your request on the registration form & include any relevant links or information if possible.
Food is not included for all ticket types, only the seated options, which includes a complimentary starter, mix grill platter (main) & a Turkish-style dessert. Food & drink are available separately on the night for the rest from the restaurant.
There are also vegetarian & vegan options available at the restaurant, if you do not eat meat.
The event will be filmed, photographed & recorded, for future reference, marketing & promotional use, as well as fundraising. By attending, you give consent to us using your image, likeness & representation.
We reserve the right to eject anyone from the premises or refuse admittance to any intoxicated or unruly person.
Anyone that causes any damage to the premises or equipment will be held liable.  
Follow: @Acharich @CocoonTalent @SurpriseLDN on social media.
Use the hashtags: #SurpriseLDN #CanIGetAWitness #CocoonTalent #AcharichLIVE #CIGAW #ANightWithAcharich                    
P.S. (Potential SPOILER below, so avoid for a bigger surprise:)
.
.
.
.
.
.
.
.
.
.
You should enjoy the night regardless, but fans of Kirk Franklin, YEBBA, Andrae Crouch, Mali Music, Jonathan McReynolds, The Strivers Row, PIA Tour, Ed Sheeran, Motown, Tori Kelly, Kanye West & the Sunday Service Collective, Eddie James and/or Rick Pino will love this show!
iCause.com promotes public events for free and helps event organizers connect with nonprofits to attract more participants like you.
Additionally, the iCause Global Foundation enables good people to fund great causes around the world. Together, our impacts are limitless!