New Cross Inn323 New Cross Road, SE14 6AS London, United Kingdom, London, United Kingdom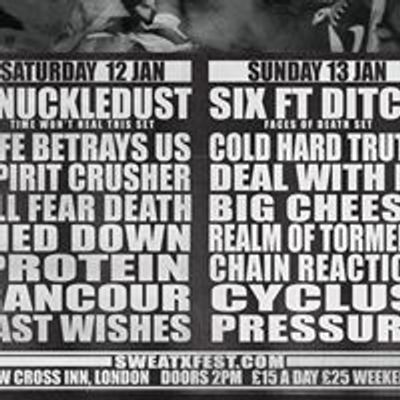 Sweatfest
Spread the word
2 days of DIY hardcore.
Tickets:
http://newcrossinn.com/tickets/events/147
£15 a day of £25 for the weekend.
Kraving Cakes will be providing the vegan goodies again.
We're still working on hot food options.
Saturday:
Knuckledust (Official)
What can you say about the most important UKHC band ever that hasn't been said before? Well, they've never played Time Won't Heal This in full, ever. The best UK album, ever. No debate. You're moshing, your nan's moshing, we're all moshing.
Life Betrays Us
They kicked our arses so hard last year we had to have them back. Plus I like having Ammo around cuz, well, who doesn't?
https://lifebetraysushc.bandcamp.com
/
Big Cheese
Leeds has been a real powerhouse of hardcore recently and Big Cheese are the cream of the crop, representing the LS6.
https://bigcheesehc.bandcamp.com
/
Spirit Crusher
There was a period in the mid 00s where we had Euro bands coming over all the time & that seems to have dried up in recent years. So, in an effort to reverse that we're bringing over Germany's current finest export. Inspired by NYHC, the 90s and the Straight Edge. Upcoming LP on London's own The Essence soon!
https://spiritcrusherxxx.bandcamp.com
TIED DOWN
Lins has been in bands longer than most of you have been alive & TD is his latest effort with Sean from Voorhees. Angry fast hardcore ala the early Boston scene. 7" out at this show on Sakari Empire & Refuse Records.
Protein
The Poles have contributed a lot to the UK scene over the years, be it Ponton filming all the shows he used to or Adam Malik & everything he's done with The Essence or Pat & Mark My Words Records. Not many Polish hardcore bands have played here though & Protein are the perfect band to buck that trend.
Straight Edge youth crew from Warsaw.
https://proteinxxx.bandcamp.com
/
Rancour
Wouldn't be a UK fest without some representation from the Welshies and Rancour are the jewel in the crown of Welsh hardcore right now.
rancourccnb.bandcamp.com
LAST WISHES
Hailing from across the sea in Ireland, LW are another Neutral Words Records band on the fest. Imagine if you took all horrible stuff England's ever done to Ireland, then turned it into a musical weapon? You'd end up with Last Wishes.
lastwishes.bandcamp.com
Sunday:
Six ft Ditch
The return of.... Lets be honest here, if anyone is still alive after Knuckledust the night before, they won't be after this. The most violent band the UK has ever spawned. I've already started stretching.
Cold Hard Truth
If SFD is the most violent UK band ever, surely CHT have a strong claim to be the 2nd on that list? If the singer punched your nan, you'd apologise to him for your Nan getting blood on his trainers.
https://coldhardtruth.bandcamp.com
/
Realm of Torment
Representing the South Coast with some 90s inspired metalcore mixed with a modern chunk of breakdowns.
https://ragehc.bandcamp.com/album/testaments-of-hope-despair
Chain Reaction
The pedegree in this band should need no introduction. 100 years of forgetting, Rise & Fall, Congress, Spirit of Youth. Plenty of Belgian all stars got together to rip you a new arsehole, brought to you by the legendary Control Records.
https://chainreactionbelgium.bandcamp.com
/
Cyclus
Ex Facedown & Clouded members plotting world domination with their new band, Cyclus. Something a little different but still packing a punch.
https://cyclus.bandcamp.com
/
Mourning
All star kickback worship from all around. UK's next big hype?
https://mourninghc.bandcamp.com
/
Pressure
No frills straight forward hardcore from Norwich, what you see is what you get. Ams is the best and you should support any band he does.
https://pressurehardcore.bandcamp.com
HTH: Hope Through Hostility
Local up and comers here to show us what they have.
https://hopethroughhostility.bandcamp.com
/