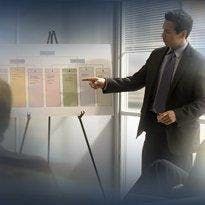 Dianetics & Scientology Life Improvement Centre, 146 Queen Victoria Street, London, United Kingdom
Eventbrite
Spread the word
Anybody recognizes that if things were better organized, people would be better off. We have all had experiences with bureaucratic red tape, impersonal government agencies or careless commercial enterprises. The problem of poor organization is serious and costs trillions in waste, inefficiency and lowered productivity.
On a more individual level, organization is a key—and often missing—factor in personal success. It is also a necessity for a flourishing family. Attainment of one's goals, no matter how small or how large, requires a knowledge of organization. How do you most efficiently and productively manage your time, your activities and your resources? How do you minimize distractions? And how do you align your strengths in order to accomplish your purposes?
"I have acquired a greater knowledge on the subject of organizing, which was very limited in the past. Now I am confident on this subject and whenever going for any activity, I organize myself with the twenty-one departments from the booklet, and start accomplishing the work properly.
"I am applying this in my personal life, family life and also in my organization where I am working and getting positive results. I have changed the organization board of my company, and everybody appreciated the initiative.
"As we specified the functions and jobs to be completed by all departmental posts and their co-workers, the monitoring of work has become more specific and effective.
"I hope to develop myself in practicing this knowledge in every aspect of my life, and also to teach others. Thanks for your kind cooperation and support." — E.M.
 Book your place now!