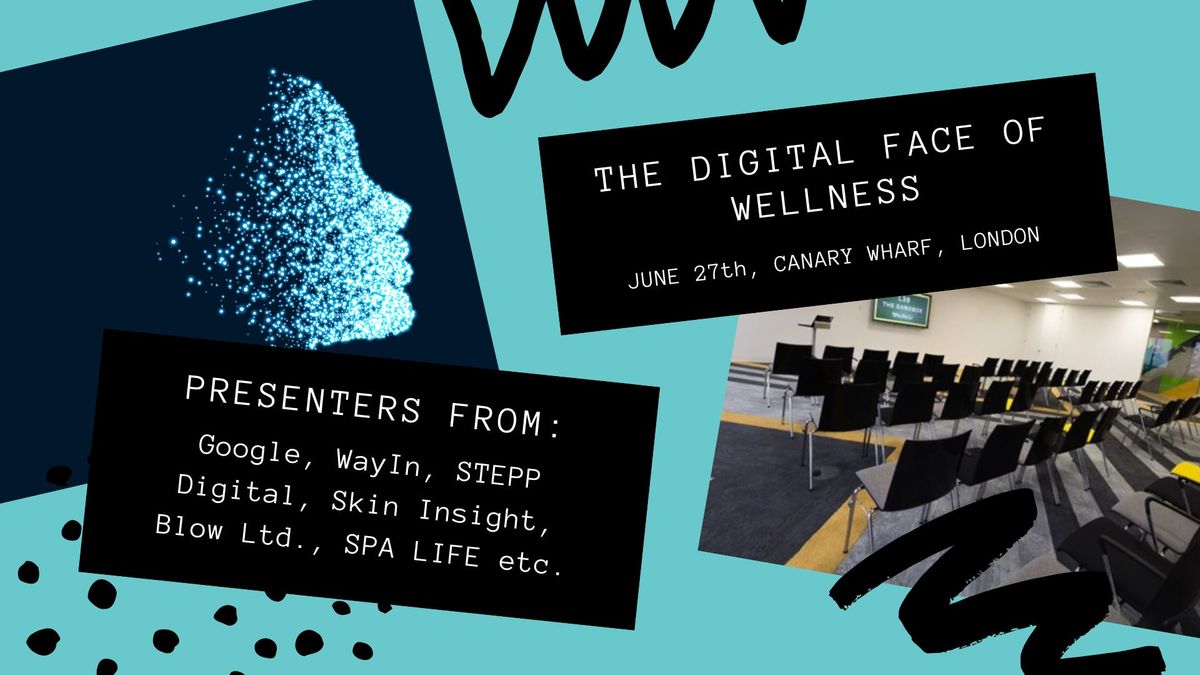 Canary Wharf Innovation Lab, L39, One Canada Square , London, United Kingdom
Eventbrite
Spread the word
Creating & consuming safe content online has never been more challenging. Join us on June 27th -  the day is set to be no less than amazing, with: 
• A simply incredible line up of world-class speakers amongst which: Kate Eckersley, Google UK, Nadya Birca, Organizer of the current event & Co-founder @STEPP Digital, Galina Ralfe - Boggis, Holistic Solutions, Camila Pereira, Head of Digital @BLOW Ltd (Spa-at-home provider), leading Mumsnet Instagrammer & Influencer etc.;
• A rare opportunity to book a limited number of 'speed Q&As/mentoring' appointments with our esteemed Ambassadors (we'll be offering these to ticket holders in a few weeks' time);
• An agenda that will shower you with 'lightbulb' moments about your online content creation & consumption;
• The chance to meet and network with current and future spa, wellness & beauty industry leaders during a complementary breakfast in the heart of Canary Wharf business center;
• Your Beauty Goodie Bag kindly provided to you by The Champney's SPA Lead Beauty Supplier - SOFRI UK;
Explore the safe side of online content: for yourself/your family and for your online businesses. Hear from our speakers from Google, Holistic Solutions, Skin Insights and lead Millennial Influencers on #sustainablewellness at home & beyond. 
Be forewarned to become prepared to welcome the digital face of wellness:
- Q1: We're all guilty of being addicted to content these days, yet are you consuming it SAFELY? For yourself & your family? When is it safer to consume online content? How?
Who else if not Google would dare to advice us on this? Come to hear more of it.
- Q2: Is Digital Detox needed? Do you know how to manage yours? #sustainablewellness is gaining traction.
Learn how Blow Ltd (aka Your Salon-at-home) has managed to put its customers first - the innovative business model which managed to challenge engraned mindsets & disrupt a solid traditional industry framework. 
- Q3: Why are we enjoying less of what we do and why would such savvy consumers as millenials find our business/brand content inspirational?
Hear from a lead millenial influencer and world-leading content creating software trusted by enterprise corporations such as P&G and Vodafone. What are the recipes of engaging content? And much more..
10am - 10.30am: Arrival and breakfast
10.30am - 11:00am: Wellness market info and context (Google)
11am - 11:30am: Managing Your Digital Detox: the how & the why (Skin Insight)
11.30amam - 12am - Disruptive services & content (keynote speakers from: Blow Ltd, GLUE Studio & WayIn)
12am - 1230am - Coffee break
12:30am -1pm - Creating Meaningful Conversations Online with your audience (keynote speakers from: STEPP Digital, Conversant CJ,  Whatsapp Marketing Platform - CampaignUp & Beauty Millenial Influencer/Lead Instagrammer)
1pm - 1:30pm - Summary and closing thoughts from SPALIFE, Hollistic Solutions & our inspiring Ambassadors who we'll reveal in the coming 3 weeks. Be ready to prepare your challenging questions:). Be eager to find out more!
1:30pm - 2pm - Wrap-up and complementary networking break (Q&A Appointments with our Ambassadors) sponsored by one of the lead Champneys' SPA Beauty Suppliers, SOFRI UK & Holistic Solutions.
___________________
Be bold. Don't miss out!
See you there.
Proudly brought to you by STEPP Digital.
Copywright 2019.