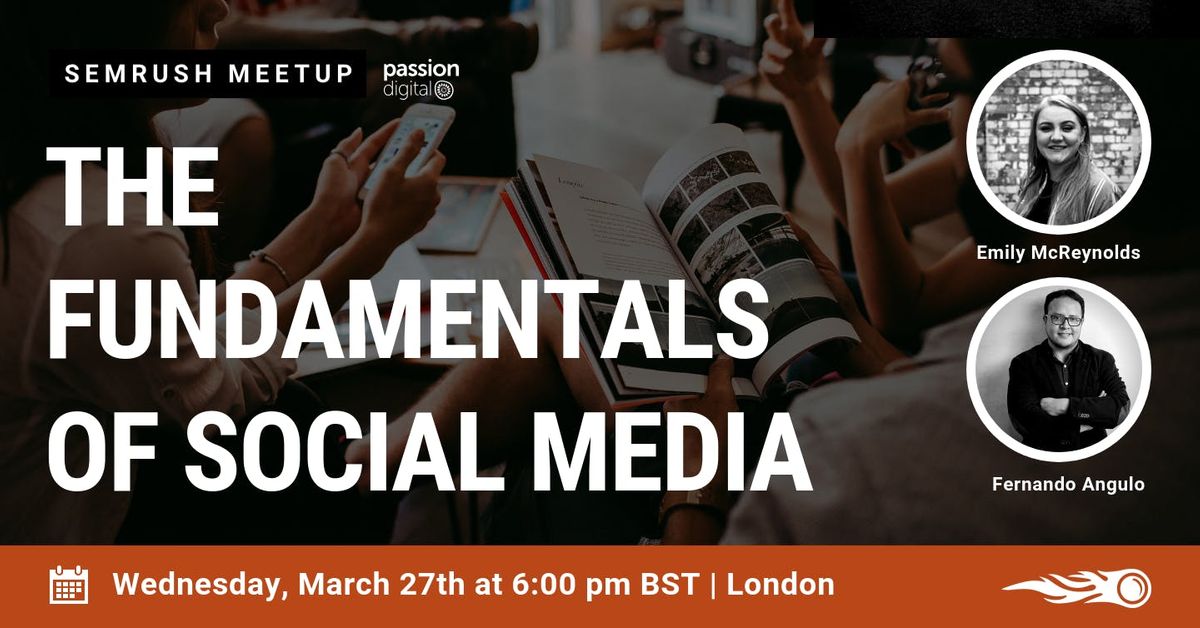 Passion Digital, 4B Union Court, SW4 6JP, London, United Kingdom
SEMrush
Spread the word
You are invited!
SEMrush is coming to London and we'd love to meet you!
We teamed up together with Passion Digital to bring you one more useful meetup about the Fundamentals of Social Media.
Social media is a staplemarketing tactic for nearly every business, helping brands build awareness, share and interact with customers and prospects, and create important touch points in the changing customer journey. There are several principles such as Social Listening that are fundamental for organizations that are building a social media plan. In this meetup, you will learn about the fundamentals of Social Media Listening and how to amplify your Social Media Presence in 30 min per day. 
Agenda
6:00 - 6:30 pm Networking6:30 - 7:15 pm Presentation & Q&A's by Fernando Angulo: How to amplify your social media with 30 min per day. 7:15 - 7:30 pm Break7:30 - 8:15 pm Presentation & Q&A's by  Emily McReynolds: Social Listening. 8:15 - 9:00 pm Networking
Topics
Fernando Angulo: How to amplify your social media with 30 min per day. 
Working on your online presence has much in common with training your body–a short, daily workout brings more results than a long training session once every two weeks. The secret of success is consistency, so try to devote at least 30 minutes every day to working on your online presence. In this presentation, I will share plenty of tools that can save you a lot of time.
Emily McReynolds: Social Listening. 
Emily has broken down the summary of her presentation into questions that she will answer during her talk. 
What is social listening?
How has social listening evolved?
How do you conduct a social listening strategy?
Why would you conduct a social listening strategy?
What can social listening be used for?
Case studies
Meet the industry experts and speakers!
Fernando Angulo, Head of International Partnerships, SEMrush
Fernando is the Head of International Partnerships at SEMrush with over five years of practical experience in online marketing within our team. He has represented the company at numerous industry conferences and events globally like, SaScon UK, SMX PAris, Prestashop Day Spain, PPC Masters Germany, Baltic Ecommerce Poland, and he was an outstanding moderator of the prestigious Brighton SEO.
As an active member of the SEMrush marketing team, Fernando specialises in B2B search marketing, e-commerce, competitive intelligence and influencer marketing. During his sessions and workshops he immediately engages audience with his energy, sense of humour and a lot of practical examples and real cases.
Emily McReynolds, Social Media Manager, Passion Digital
Emily is the Social Media Manager at Passion Digital and is accomplished in content creation and both organic & paid social media. Emily is experienced in social execution, community management and content planning, as well as informing and implementing strategy for accounts ranging from start-ups to global household brands. Emily has worked with companies such as Cambridge University Dictionary, Teletext Holidays, Countryside Properties and KPMG Small Business Accounting. Emily can often be found scrolling through her dog's Instagram profile (@jamthelab) or reading the latest social media news.
RSVP now!
Everyone is invited but the seats are limited! Grab the opportunity and be there!
We would love to get in touch!
Do you have questions about the workshop? Would you like to reach out to the SEMrush team or would you like us to visit your offices and perform a training to your team, totally free? Check the dates we will be in your city and let us know your availability.
Come meet the team and expand your marketing strategy in any of our digital marketing workshops!
Contact our team (
s-team | semrush ! com
) or Fernando directly!
The SEMrush team.