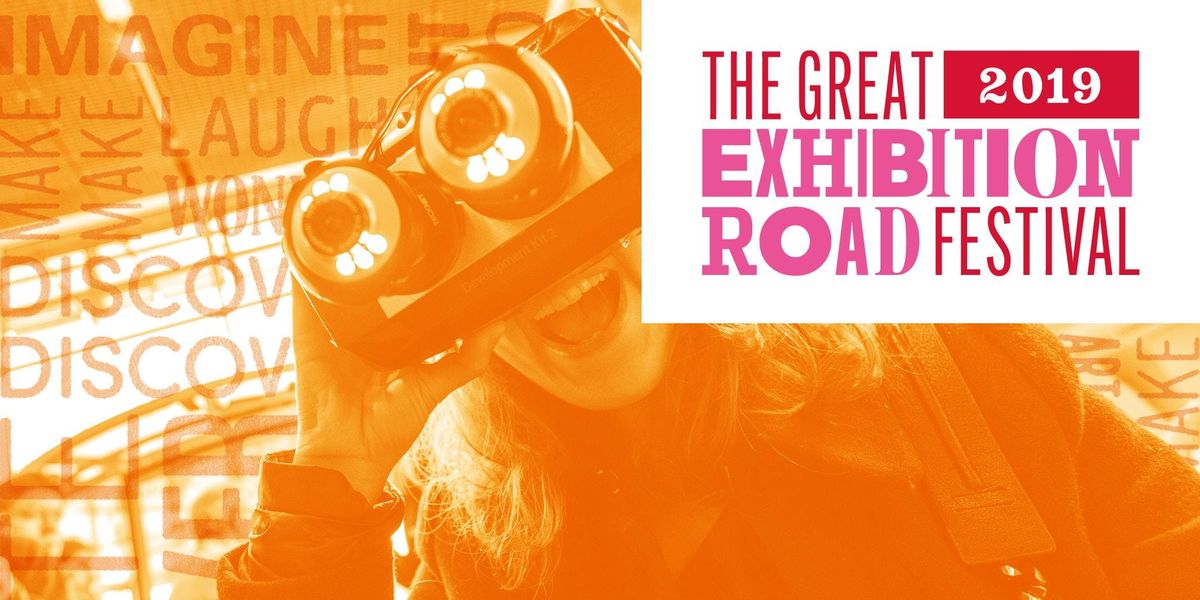 Exhibition Road, South Kensington, London, United Kingdom
Eventbrite
Spread the word
To attend the festival, please make sure to register for free. Registering is the only way to receive the latest Festival updates, a first-look at the full programme, and exclusive opportunities to book onto popular talks and behind-the-scenes tours.
EXPLORE THE EXTRAORDINARY
The Great Exhibition Road Festival is a three-day celebration of science and the arts, in the spirit of the Great Exhibition of 1851. 
Join Imperial College London, the Natural History Museum and Science Museum, the V&A, the Royal Albert Hall and other galleries, museums, and institutions on Exhibition Road and beyond. 
From understanding our world to exploring new ones, from new drone technology to imaginative design, and from symphony orchestras to the future of food, join us on Exhibition Road for a festival of curiosity, discovery, and exploration.
Creative workshops
Inspiring talks
Hands-on exhibitions
Hundreds of demonstration and experiments
Behind-the-scenes tours
Huge street food market
Note: The festival will begin on Friday with a series of separately ticketed events at our partner institutions. To attend the festival on Saturday and Sunday, please make sure to register for free.
Explore the extraordinary
Roll up, roll up to our science-inspired Victorian fairground of the heart, or enjoy the buzz of creating your own wonder material sculptures and space art! There's plenty that's extraordinary out on Exhibition Road, whilst inside our robot zone you can play air hockey against a robot or ask our robot butler for a drink. 
Experiment with us 
Want to try royal tea from the botanical gardens of Kensington Palace? Or perhaps keep refreshed and care for the planet at the same time with futuristic edible water bottles? You can also join us at our insect kitchen to taste how creepy-crawlies might become the health foods of the future.
Express yourself 
Get your socks knocked off by a rousing re-imagining of Holst's 'The Planets' or settle in for a spot of afternoon tea at the Opera - there's loads of ways to immerse yourself in art, music and theatre at the Festival. Get involved in our set design workshop to help us recreate the Apollo 11 moon landings, and don't forget to join us for a musical Sunday brunch.
Expand your mind
Take an immersive, multi-sensory dip into dark matter or explore how emojis might change how we talk about science. There's plenty of awe-inspiring exhibits, workshops and talks for all ages answering big questions like - will we really mine the moon one day? And how do you design a happy city for happy residents?
www.greatexhibitionroadfestival.co.uk
#ExRdFest