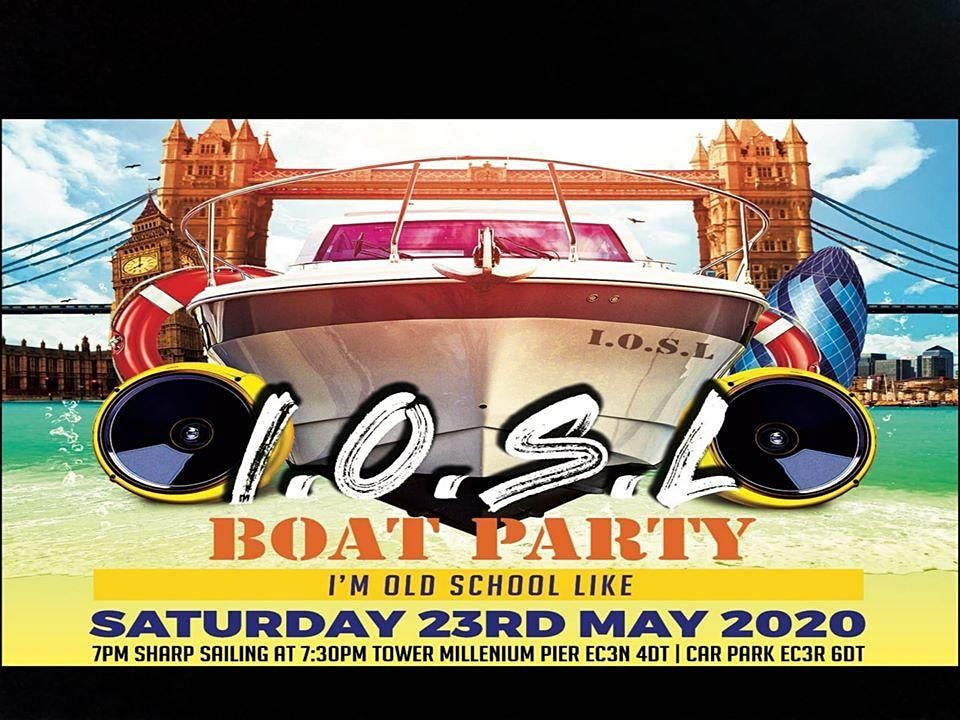 Tower Millennium Pier, Lower Thames Street, London, United Kingdom
Eventbrite
Spread the word
I.O.S.L - I'm Old School Like......... Return, with The IOSL Boat Party pt.II
About this Event
I'm Old School Like........ (I.O.S.L)
Returns, once again, with The I.O.S.L Boat Party pt.2!!
Once again, this will take place on The Jewel of London, where we will be partying to the sounds of old school music, whilst sailing on the Thames!
And when we say old school... We're not talking your regular degular old school that you hear EVERY TIME you go out! Of course, there will be some, but our aim is to focus on the music you don't get to hear all the time. So, please feel free to post any suggestions of tracks you may want to hear on the day in the comments and we'll take note.
If you've been to any I.O.S.L events, or The Big Kids Party, then I'm sure you know what to expect... If it's your 1st time, then you're in for a treat!
Musically, from our hand picked dj's, you're likely to hear old school everything, from: (In no particular order) RnB, HipHop, Ragga, New Jack Swing, Garage, Jungle, Rare Groove, 80s, pop, and anything else you remember hearing in your early years and teens!
It's only right that the dj line up is authentic to go with that, so we've hand picked dj's that were there, when most of the music was coming out, honing their craft and getting their selections right!
Your entertainers for this ride are:
Mr Deezel
Dj CLK
Hey Essay
Phat Kontrollaz
MC Halfpint
Simon Sez
TICKETS:
Limited Super Earlybird £22+bf
Limited Super Earlybird w/ food £27+bf
Limited Earlybird £27+bf
Limited Earlybird w/food £32+bf
Standard £32+bf
Standard w/food £37+bf
Ticket includes: Entry, complimentary Jelly shot/Rum punch (before 19:30)
Food (Chicken/Veg Roti) provided by: Super Caribbean Catering
DRESS CODE:
Really, we're big people out here, so we shouldn't have to tell anyone how to dress.. Be respectable, be fly and come to party!
BIRTHDAY PACKAGES
5 tickets, table area, cake, nibbles and a bottle (Options 1-4):
(1) Prosecco - £185
(2) Courvoisier - £270
(3) Wray & Nephew - £260
(4) Grey Goose - £270
(5) Gin (Pink, Gordons, or Bombay Sapphire) £250
Contact us directly to book
Info: 07507190003 / admin | imoldschoollike ! co ! uk