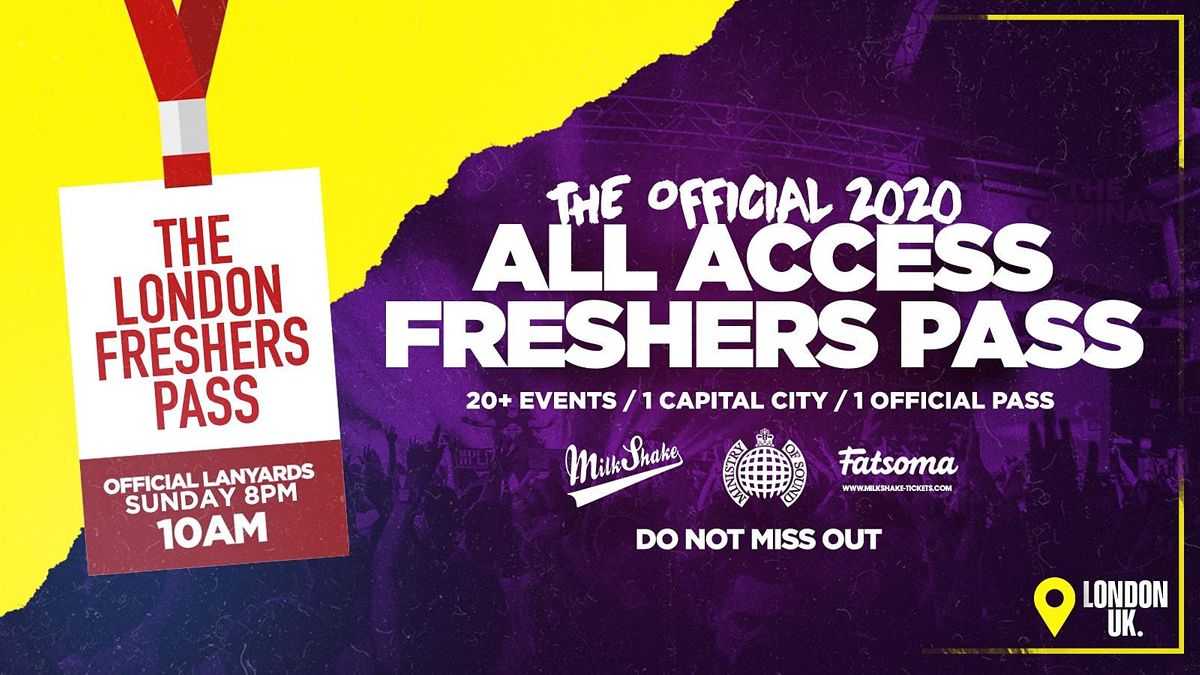 London, United Kingdom
Milkshake
Spread the word
London's Official All Access Freshers Pass is on Sale now! Join us for 20+ Events across the annual freshers period!
About this Event
The Official All Access Freshers Pass
20+ Events, 1 City, 1 Unique Lanyard
1ST RELEASE ON SALE FRIDAY 10AM
? The Official One Stop Shop Lanyard Pass For All The London Freshers Events ?
?READ THROUGH NOW AND DON'T LOOK BACK ?
? 200 PASSES ON SALE SUNDAY 8PM ?
? 1000 PASSES ON SALE MONDAY 8PM ?
? 1000 PASSES NEXT MONTH ?
? THERE ARE ONLY 2200 PASSES FOR 40K STUDENTS ?
⚠️ Bookmark, Save, Click Going, Whatever You Need TO Keep This Event ON HAND ⚠️
Brought to you by Milkshake, Ministry of Sound.
---- -------- ---- ----- The Concept ✅----- ---- ---- ---- ----
Keeping it Simple ✔️Keeping it Cost Effective ?Keeping it Easy Going and of course keeping YOU GUYS IN THE DRVING SEAT, Each Access Pass Allows you to attend 7 Clubbing (1 Whole Weeks Worth!) Events across the entire Freshers period From ? September 12th till October 31st! YES OCTOBER 31ST!
And for the ultimate ravers we are also selling both 14 and 20 event pass lanyard passes which will get you into every rave we run and all the huge parties in London!
Re-Launched 5 years ago, by Milkshake Events (Established in 2002 making it the longest running student events company in London); The Lanyard Access Pass is the BEST Way to party in London this Freshers as it keeps the cost down, gives you CHOICE And gives you a chance to take a breather, not wasting your money on events you may not even attend (Plus you get to keep a cool Freshers 2020 lanyard as both a keep-sake and a useful key's lanyard lol)
Usually we open up sales for the Access Pass in August, but this year due to a Closed off Summer (Covid:19 lol) access to Freshers Events has seen a HUGE EARLY DEMAND.. So, they're on sale this SUNDAY!
Each Freshers pass will be a unique Lanyard allowing you to spread out your raving and enjoy EVERY Top Club from Ministry of Sound to Fabric London to XOYO to Fire London & Lightbox London, Tiger Tiger, O2 Academy + Many More!
You will have the choice of which events to attend and when to attend; allowing you not to waste money, miss out on who's got what tickets and of course party like a ROCKSTAR!
There is nothing like this on sale, for no matter when you move to London, or when you start school - This is THE BEST way to complete London's 'Freshers' in 2020 WITH ALL YOUR NEW FRIENDS!
PS. Once The Events Sell Out This Will Be the ONLY Way To Access Them AND IT WILL SAVE YOU ??????
PPS. THIS LANYARD PASS SOLD OUT BY AUGUST 23RD LAST YEAR! (Quicker than any wristbands by any university promoters) SO BUY QUICK!
—– ?The Events Included - FULL 4 WEEK GUIDE ?—–
All Events Below Are Included in the pass, but if you just want single tickets the links are all here too!
(EVENTS WILL BE RELEASED WITH THE TICKETS THIS SUNDAY 8PM - BUT THEY 100% INCLUDE: FABRIC, MINISTRY OF SOUND, XOYO, TIGER TIGER, FIRE LONDON, LIGHTBOX, ROOFTOP PARTIES, DAY PARTIES AND MORE!)(PS. THIS IS THE ONLY FRESHERS PACKAGE TO INCLUDE THE FAMOUS MINISTRY OF SOUND)
(For an example of events, check out last years package (sold out btw) http://bit.ly/TheSoldOut2019Pass << )
Week 1: FRESHERS IS HERE ?
? Sunday September 13th 10pm-4am
? Monday September 14th 5pm-1am
? Tuesday September 15th 10pm-4am
?Wednesday September 16th 10pm-3am
?Thursday September 17th 10pm-4am
? Friday September 18th 9pm-3am
? Saturday September 19th 10pm-4am
Week 2: THE BIG WEEK ?
? Sunday September 20th 10pm-6am
? Monday September 21st 10pm-3am
? Tuesday September 22nd 10pm-5am
? Wednesday September 23rd 5pm-1am
? Thursday September 24th 10pm-4am
?Friday September 25th 9pm-3am
?Saturday September 26th 10pm-5am
Week 3: THE EVEN BIGGER WEEK ?
?Monday September 28th 9pm-Late
?Tuesday September 29th 10pm-6am
?Wednesday September 30th 10pm-3am
?Thursday October 1st 10pm-4am
?Friday October 2nd 9pm-4am
Week 4: THE FINAL WEEK?
?Monday October 5th 10pm-3am
?Tuesday October 6th 10pm-4am
?Wednesday October 7th 10pm-3am
?Thursday October 8th 10pm-5am
?Friday October 9th 9pm-4am
?OMG MORE EVENTS ?YOUR HALLOWEEN SORTED ?
?Thursday October 29th
?Friday October 30th
?Saturday October 31st
—– ?Tickets & Collections ?—–
Jesssssussss Thats a LONG List of events hey!?!
There is NO Greater Freshers Nightlife Package On The Market!
⚠️REMEMBER LANYARDS GO ON SALE THIS SUNDAY!
Collections of Your Freshers Pass(es) and your Official London Freshers Lanyard will be availible on selected dates & Locations throughout September/October in Central London. All Buyers will receive the information and it will be announced in this event before September 1st.
—– ? Milkshake The History ? —–
Milkshake, Born & Raised in the Ministry of Sound Club and is Officially the capitals Biggest student events company and longest running producer of student club nights since establishing in 2002. We first launched our freshers pass in 2010 and now in 2020 it's going to be bigger than ever!
>>> Don't waste your time & money with anyone else <<<
Along side our Flagship Tuesday Night at Ministry of Sound; over the Fresher's Period Milkshake also brings to the capital a whole host of tailored parties to suit all palates. From our parties with MTV & Fabric London, to intimate parties in the likes of XOYO & The Notting Hill Arts Club. We throw beach parties, rooftop parties, foam parties & feature London's Best Venues | www.MilkshakeEvents.Com
—– ☎️Contact / Support / T&C's ☎️—–
For Any Questions Regarding the All Access Pass/Lanyards please contact: Freshers | milkshakeevents ! com or Inbox our FB page on www.fb.com/MilkshakeOfficial For anything Urgent you can whatsapp: +447590834117
For Press & business enquires you can contact Milkshake | ministryofsound ! com
If it is an issue with downloading your receipt please visit www.fatsoma.com/support
/>
Follow us on Instagram here: www.instagram.com/MilkshakeMos
/>
For a COVID:19 Statement Scroll Down.
Full Terms & Conditions regarding the All Access Pass/Lanyards can be found here:
All events involved in this Pass are 18+ and Gov issued ID Will be required to attend (Driving Licence or Passport). Some Events may require student ID (Ask for details or just proof your a student). All Passes are non-refundable, non-transferable and can only be used once (per event) (unless see Covid:19 statement)
THEY MUST BE COLLECTED AND VERIFIED BEFORE BEING USED AT ANY EVENTS!
They can only be used by the purchaser or the nominated recipient. Please ensure you fill out the correct names of who the lanyards are for, if you don't know the name of a guest your buying for please just put the name 'Guest TBC' and ensure you email us with the guests name before September 1st or their lanyard may not be valid. Milkshake does not accept any responsibility should you loose your pass(es)/lanyard. Once Passes Sell Out we can not release any more passes. Keep your Passes Safe & Secure. They can not be Re Sold. On event dates, passes are valid for entrance until 23:45 with the exception of the Freshers Day Party & Freshers Roof Party where passes are valid till 7pm and the Club Crawls where last collection is 10:30pm Sharp! ID Will be needed to collect your Pass too. Please aim to arrive early to all events! When using the Lanyard 'Event Passes' MUST remain attached to the lanyard, and to use your lanyard you must bring the entire thing with you. We check the name on your Lanyard front and then take one or Mark off one pass as an entrance ticket accordingly. You will also be required to show ID valid for the name on your pass. Event info/times/dates can be changed and venues can be changed, in this uncertain climate you never know what may happen, but in all our years we've never had to make any changes. Our Official Ticket Partner is Fatsoma, Access Passes / Lanyards for sale anywhere else are not legitimate (Except Eventbrite) All passes expire October 31st 23:50pm 2020
Please be careful of what you read online, there is a lot of Fake News Out There.
?COVID:19 STATEMENT ?
So, for the first time ever we have something that may block the experience of Freshers nightlife for everyone, COVID:19. So yes, be aware we are fully up to date with the current crisis we face and the pandemic we are living through. We know, that it is early days, and right now nothing is for sure, but going by the Governments stages, Other countries time-lines, and as the 50 Page Rebuild plan outlines (here: CLICK HERE FOR GOV LINK) the UK Government expects to see the hospitality and nightlife industry to return this September. If, for any reason, it's only from October, we like everyone else will push back and run Freshers from the new dates allowed. Passes are, anyway, valid until October 31st so this would not affect your tickets so you don't need to worry.
However, in the unfortunate situation that Venues CAN NOT open in October, that would mean we can NOT operate a successful Freshers Campaign, and so ALL customers will receive a refund from us, 100% no questions asked. We can be contacted 24 hours a day, 7 days a week and we respond to all questions honestly, so should you wish to get in touch for anything personal or for info on the above use: Freshers | MilkshakeEvents ! com
—– ?Jobs? Fancy it?! ?—–
1) Want to make some fast £££ become a Fatsoma (Online) Social Media Rep today! It's easy, simple & fun, check out all the info here: http://bit.ly/MilkshakeRepGuide
/>
2) Looking for work from September onwards? – WE ARE HIRING!
London's Biggest & Longest running student events company are looking for new team members this September. Specifically promoters ticket reps (getting people to events, selling tickets etc!), event management staff (Working at our events, clubs & parties!), sales staff & street team members to work across our weekly student events.
All roles come with perks such as:
– FREE Entry to all our parties
– Free Nights out with our growing family
– Free Drinks & VIP Passes at events
– A HUGE reference for your CV
Simply fill out the form here and let us know what roles you are interested in: www.milkshakeevents.com
iCause.com promotes public events for free and helps event organizers connect with nonprofits to attract more participants like you.
Additionally, the iCause Global Foundation enables good people to fund great causes around the world. Together, our impacts are limitless!