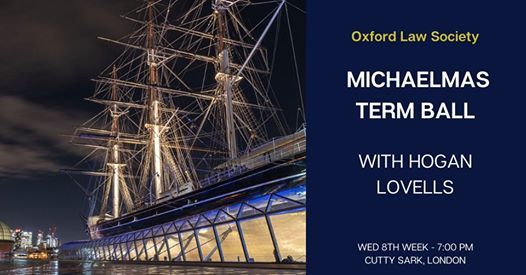 Cutty Sark, Greenwich, London, United Kingdom
Oxford Law Society
Spread the word
We are delighted to announce that the Oxford Law Society Michaelmas Term Ball 2019 sponsored by Hogan Lovells will be held on the Cutty Sark, in intrepid Victorian sailing ship, the fastest of its time, which sailed around the globe before coming to rest to Greenwich in 1922.
A coach will pick you up from Oxford to transport you to this spectacular location, next to the Old Royal Naval College. Sip Moët as you roam the decks of the world famous ship, and explore underneath the hull where live musicians will perform for your entertainment. Following the dinner, there will be arcade amusements, casino games, magicians, caricaturists, ballet, and, of course, a DJ to dance to as you enjoy the fully open bar with cocktails and non-alcoholic options. At 1 AM, we will all board a coach back to Oxford.
The price for tickets will be £121. Tickets will be allocated through a randomised ballot which will close on Wednesday of 6th Week at 9 PM.
NB: Please note the change of venue with respect to our previous advertising.