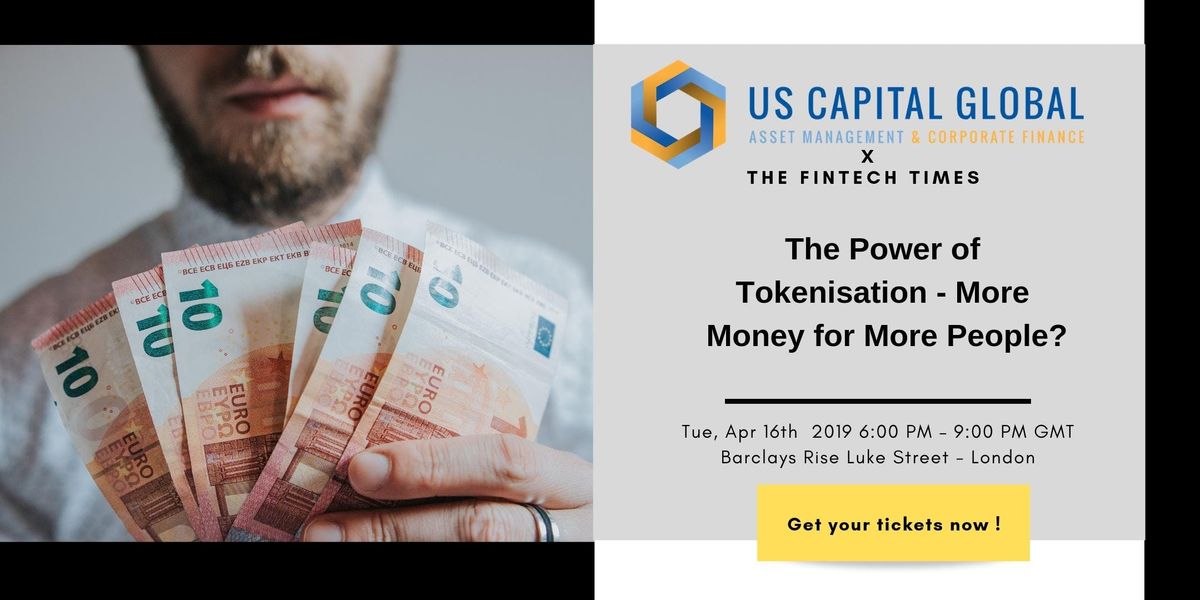 Rise London, 41 Luke Street, London, United Kingdom
Eventbrite
Spread the word
The power of Tokenisation - More Money for More People? 
A London Event by US Capital Global, 16 April 2019, 6 pm   
Digitising Securities, why? 
The ultimate goal is democratising access to alternative investments, creating wealth, and growth for investors, and for businesses. The ultimate goal here is not 'technology adoption' per se, and not just reallocating the financial pie, but more money for more people. 
How do you do that? 
In financial markets, the early stage investors are sophisticated enough to be able to take a significant risk for large rewards and wealthy enough to be able to meet high minimum investments associated with private markets. Ultimately the capital markets want to broaden the participation to other investors and institutions, to benefit smaller investors and smaller cap companies.
Find out the inside scoop on:  
Won't technology solve everything?
The other chasm – Alternative Investments
Early adopter success – a key to chasm crossing
It's all about standards
And then what about interoperability?
The US Capital Global Event Powered by The Fintech Times 
CHAIRMAN and KEYNOTE SPEAKER: Jeffrey Sweeney, CEO & Chairman - US Capital Global
SPEAKERS (TBC):
Helen Disney,CEO, Unblocked
Scott Davies, CEO, Torca 
Phil Mochan, Koine Finance 
AGENDA:
6:00 pm - Refreshments & Networking
6:30 pm - Chairman's Opening remarks: Jeffrey Sweeney
6:40 pm - Panel 1. 
7:20 pm - Panel 2. 
8:00 pm - Resume Refreshments & Networking 
HEADLINE SPONSOR: US CAPITAL GLOBAL