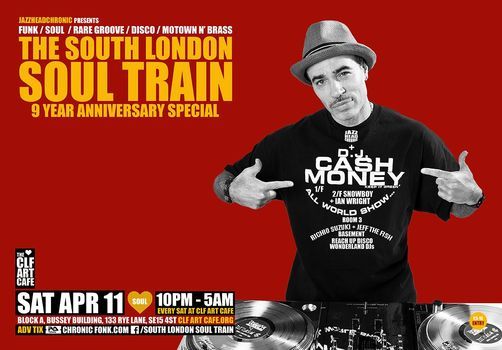 CLF Art Cafe, Block A, Bussey Building, 133 Rye Lane, SE15 4ST London, UK, London, United Kingdom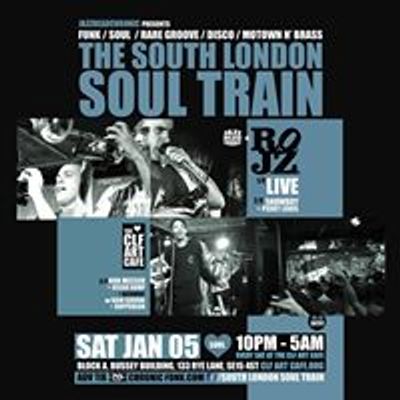 The South London Soul Train
Spread the word
EVENT RESCHEDULED AGAIN DUE TO EXTENDED CORONAVIRUS OUTBREAK. Hold on to your tickets - New date is Sat May 01 2021. Alternatively, full refunds available from Resident Advisor.
Stay Safe + See you on the other side
X
THE SLST 10 YEAR ANNIVERSARY SPECIAL IS ON!!! Sat May 01 - The South London Soul Train celebrates 10 years of seriously getting it ON and torch lighting dancefloors across The CLF Art Cafe and beyond. Love of music + best of times the message - expression of love of life, through dance the mantra at The CLF Art Cafe, Block A, Bussey Building
https://www.residentadvisor.net/events/1391616
NOTE: Due to Potential Coronavirus Restrictions, number of rooms / line up is subject to change.
To celebrate, your host with the celebratory dancefloor smoking most JAZZHEADCHRONIC, joined by one of the all time great Turntablists. From the USA (drum roll please) The Legendary DJ CASH MONEY dropping in for some authentic Brooklyn Block Party Vibes and deliver a lesson in dancefloor direct, jump up turntablism. Delivered live and direct by one of it's finest purveyors and co-creators. Believe us when we say, he'll show you how to start the party right.
So prepare yourself for the ultimate anniversary get down. (You know we ain't playin'). Minds will be blown, asses will move and the celebration (guaranteed) will be Epic. Plus (and as always), we go more on multiple jumping floors. part of our ongoing weekly mission to move your mind + force feed yoh soul with the absolute best of times.
Time to celebrate 9 years of righteously getting it ON, tear the roof off the sucka and dance!
Release Yourself!!!
LEVEL 1 - DJ CASH MONEY - 2 Hour Live DJ Set from Midnight
A cultural icon in the DJ world and one of the most prolific DJs in hip-hop history.
Since 1984, DJ Cash Money has been pioneering, designing and defining the art of turntablism. He is a cultural icon in the DJ world and one of the most prolific DJs in hip-hop history. Known in the industry as a DJ, turntablist and producer, he is best known for his pioneering scratch techniques, lightning speed and fierce musicality on the turntables. Artistic creations such as the "transformer scratch" and the DJ Cash Money Turntable Style Position are just a few of his inventions. Many techniques and styles created by DJ Cash Money have single-handedly revolutionized the technology for djs and the manufacturing of the turntables. He is the first DJ inducted into Technics DJ Hall of Fame.
DJ Cash Money continues to tour throughout Europe, Asia, the Middle East, Canada, South America and the United States dazzling audiences with his one-man show. He stays relevant by keeping his ear to the streets and studying current trends in music. The pioneer and family man says he spins everything from hip-hop, soul and house to EDM, reggae and rock music but stays loyal to his foundation as a pioneering hip-hop DJ who believes in preserving the artistry, skill and history of the turntable.
DJ Cash Money performs without limitations and believes to always do your best because "you never know who you will inspire."
Nuff Said.
Bottom line is, This Man has been there, seen it, done it and has been pioneering the art of turntablism since its inception, Plus we're truly honoured to welcome him to the South London Soul Train Level 1 Stage for the very first time.
9 Year Anniversary just got OG Heavy!!
Then on LEVEL 2 - Let the Funk Mercilessly Flow, as your level 2 hosts the legendary DJ SNOWBOY & ANDY LEWIS drop the absolute finest on 45, direct to the torch lit dance floor and the whole of yoh soul. Cue Explosion - time for another red hot dancefloor session in funked up soul.
ROOM 3 (LEVEL 2 / ROOM 2) - Time to enter THE HAWAIIAN BOP TRIP. Retrolicious 45 vinyl head RICHIO SUZUKI joined by fellow Hawaiian Shirt Wearin' / Dancefloor Rockin' DJ JEFF THE FISH for an epic strictly retrolicious Rock & Roll, 50's R N' B, 60's Soul & Motown, Vintage Ska & Latin journey from the love side. Aloha Baby!
The South London Soul Train 9 Year Anniversary Line up completed in the RYE WAX / BASEMENT by REACH UP DISCO WONDERLAND Djs, The Legendary DJ ANDY SMITH + NICK HALKES dropping 80's boogie, soul, funk, disco and proto house, evoking the spirit and dipping into the soundtrack of legendary NYC clubs such as 'Paradise Garage' & 'Studio 54'. A night highlighting the sounds that emerged as the 70's, turned into the 80's and the DNA of club music as we know it today was being written. Believe us when we say that Andy + Nick seriously know how to bring it and you will get down!
Time to Celllllllllllllebrate Good Times - C'Mon!
The South London Soul Train (as always) All floors, will be taking, all passengers on a Non-Stop Magical Mystery Tour through all things Too Damn Funky. P-Funk to Jazz Funk, Soul Jazz to Rare Groove N' Stax, Brass, Breaks, Bop and Hop to Motown, Club Classics and Anthems.
However - Passengers are requested to check their Souls at the Station as this one's for good time party people only! No Bass Wobbles Here, Only Love, Funk and Souuuuuuuul.
The South London Soul Train Runs 10pm - 5am / £5-13 Adv from RA or £15 OTD / Takes place every Saturday night at The CLF Art Cafe
www.clfartcafe.org
+ beyond.
MIN OF 500 TIX ALWAYS OTD!
Time to keep getting it on,
See you on the dancefloors fo sho
X
iCause.com promotes public events for free and helps event organizers connect with nonprofits to attract more participants like you.
Additionally, the iCause Global Foundation enables good people to fund great causes around the world. Together, our impacts are limitless!