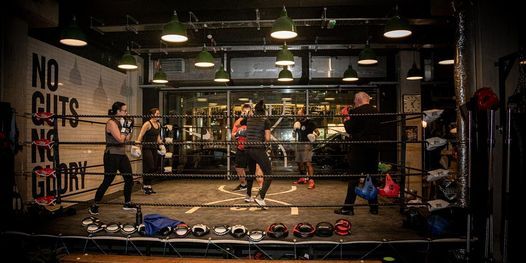 Osmani Centre, London, United Kingdom
Facebook
Spread the word
Physical fitness meets positive psychology!
Join ex Commonwealth Games Boxer, Valerian Spicer and Psychologist and Addiction Therapist, Andy Cole for a 1hr boxing fitness and positive psychology session.
The Spicer Method is a unique boxing programme that combines fitness and psychology together, using a storyboard of lessons from Valerian's career as an elite athlete.
Positive wellbeing gives us greater capacity to cope with adversity and to avoid breakdown when confronted by stress.
Stress is also an opponent we can face with confidence, because sports and health psychology studies show that exercise helps us build resilience and emotional intelligence whilst we improve our physical health, our technical or tactical ability.
Inclusive and welcoming of all ages and levels of fitness.
- Bring/wear training gear and wraps. Wraps can be purchased for £6
Due to covid-19 - we will not be doing any partner work or pads until restrictions ease.
- Mondays at 12:30 - 13:30
- Sessions £15 on door / or via Eventbrite.
- 4 x sessions block booking - £50 / or via Eventbrite
If paying on the door, please email your participation ahead of the session to book your space -
info | valerianspicer ! fitness
http://www.thespicermethod.com
/
iCause.com promotes public events for free and helps event organizers connect with nonprofits to attract more participants like you.
Additionally, the iCause Global Foundation enables good people to fund great causes around the world. Together, our impacts are limitless!