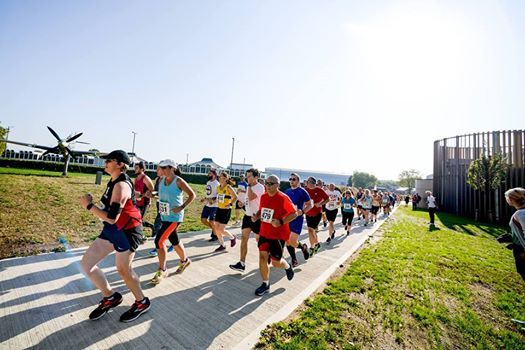 The Royal Air Force Museum, London, United Kingdom
The Royal Air Force Museum, London
Spread the word
The Spitfire 10K will take-off from our fantastic London site on Saturday 31 August 2019!
After a sell-out event in 2018 we are excited to launch the Spitfire 10K in London for 2019. We are giving 800 runners the opportunity to run a 10K on the historic London Aerodrome and RAF Hendon site. Don't miss the chance to book your tickets and get one of our famous medals.
The run will take you around the edge of the historic London Aerodrome that once existed in Colindale. This is a road race so you will be running along pathways and the streets that follow the old airfield. The race will start on the Museum's green space, where you will run around our 'taxiway' that evokes the historic RAF Hendon Base, then exit the Museum by running past our Spitfire Gate Guardian. Once you've completed two laps you will run back into the Museum past the Spitfire, through Hangar 1 and under the beautiful Short Sunderland Flying boat, before crossing the finish line. At the end of the race you will be awarded with the highly sought-after Spitfire 10K medal.
The Spitfire 10K is held to commemorate the Battle of Britain and all the men and women who defended Britain's skies during the summer of 1940. This is why all our runners wear the name of a Battle of Britain pilot with their race number so that we may share further the story of those Royal Air Force personnel who served in this pivotal aerial campaign with a new generation.
2019 Spitfire Technical t-shirts and NEW for 2019, Running Vests, can also be purchased for £10.00 when you book your Spitfire 10K entry and will be available for collection on the day.
The deadline to pre-order your t-shirt is 28 July 2019. Please note that there will be a limited number of t-shirts and vests available for sale on the day, but we recommend ordering in advance to avoid disappointment. T-shirts will be available for £12.00 on the day and vests £14.00.
Entry to the Museum is free of charge and runners, spectators and supporters are encouraged to explore the site on race day.
Entry Fee
SPITFIRE 10K
Standard entry fee: £22.50*
Discounted entry fee: £20.50* (Members of UK Athletics affiliated clubs and Armed Forces Personnel will be asked to enter details to receive the discount)
All runners to be 15 years and older. Held under UK Athletic Rules. UKA Licence applied for.