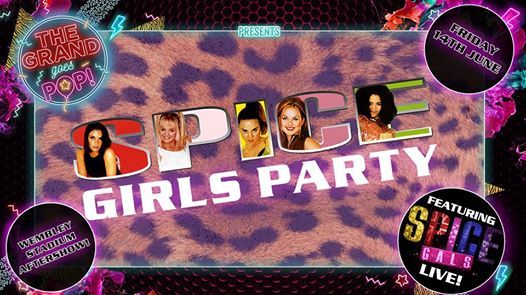 The Grand, 21- 25 St John's Hill, Clapham Junction, SW11 1TT London, United Kingdom, London, United Kingdom
The Grand
Spread the word
It's time to dig out your hair crimpers, drown yourself in Impulse body spray and decide whether you should wear the little Gucci dress, the little Gucci dress OR the little Gucci dress… ?
Free entry all night long with a Spice Girls Wembley Stadium Ticket or £5 early birds available now!
? Grab your tickets here:
http://bit.ly/SpicePartyfb
Expect:
?The Spice Gals LIVE - Debut Performance
? Themed Spice Girls Photobooth
? London's Finest Pop DJ's
?Spice Balloon Drops
? The Grand Spice Girls Dream Team
? Confetti shooting from the ceiling
? Big Screen Spice Girls Sing Alongs
? Fully Stocked Spice Bars
? Free Spice Girl Glitter Makeovers
& More!
We are hosting a massive Spice Girls Party to celebrate their sold out shows at Wembley Stadium! ? If you missed out on tickets dust of your best baby/sporty/ginger/posh or scary outfits and join us in a fabulous 90's themed Spice Girls extravaganza! If you are lucky enough to have tickets any of their Wembley shows just show your ticket to get free entry before 11.30pm (it's only an hour from Wembley on your way back home after!) ?
Come dance yourselves silly with back to back 90's throwback hits and so much glitter you'll still be finding it in your hair 10 years from now. We'll have London's finest pop DJs, the debut performance from The Spice Gals (the only Spice Girls Drag Band!), themed cocktails, our photobooth and loads loads more! ?