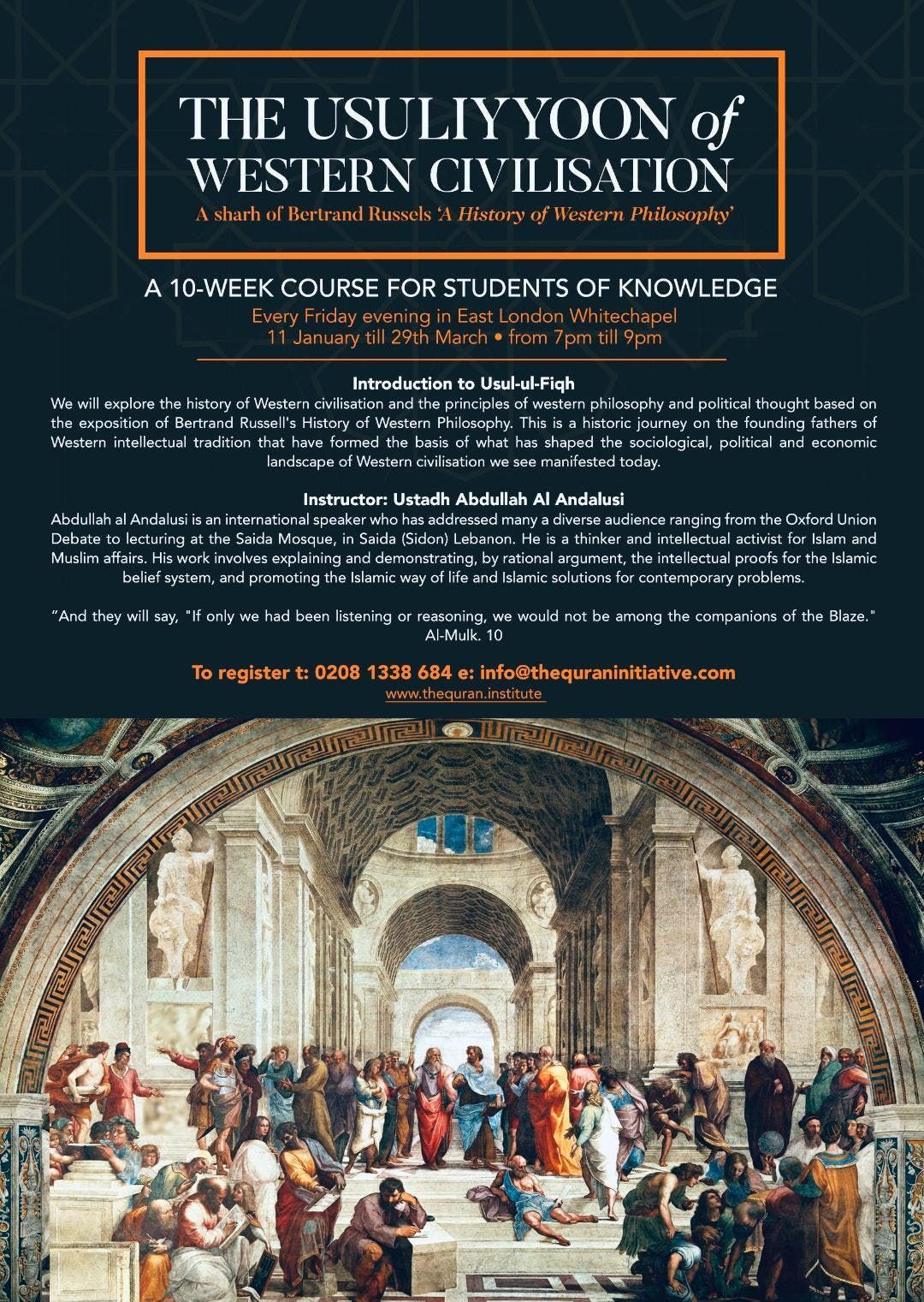 Whitechapel, London Area, London, United Kingdom
The Qur'an Institute
Spread the word
Onsite or Online?
Onsite Access is extremely limited, we advise that you book early and take advantage of the early bird discount as well as the opportunity to take full benefit of the course from being in attendance with the teacher.
Onsite students will have access to paper copies of handouts and references. Digital copies will be provided for online students.  
Online Access will have the added benefit of recorded access throughout the duration of the course. Also thos who pay for online access can also attend in person providing they notify us in advance.Course: Introduction to Western Philosophy
"And they will say, "If only we had been listening or reasoning, we would not be among the companions of the Blaze." Al-Mulk. 10
We will explore the history of Western civilisation and the principles of western philosophy and political thought based on the exposition of Bertrand Russell's History of Western Philosophy. This is a historic journey on the founding fathers of Western intellectual tradition that have formed the basis of what has shaped the sociological, political and economic landscape of Western civilisation we see manifested today.
Instructor: Ustadh Abdullah Al Andalusi
Ustadh Abdullah al Andalusi is an international speaker, thinker and intellectual activist for Islam and Muslim affairs. His work involves explaining advancing the intellectual proofs for the Islamic belief system. He has 10 years of experience engaging in debates with secularists, liberals, atheists and secular Christians, explaining and examining the background and reality behind Western cultural products, philosophies, political systems, values and intellectual self-justifications.
Additional information:
We are proud to announce our new groundbreaking course 'The Usuliyoon of Western Civilisation' which is taking place in the heart of Whitechapel, London that will span for approximately ten weeks starting from January the 11th. Details of the course with Eventbrite registration and payment access will be shared online tomorrow. And yes, there will be an 'early bird discount' for those who take advantage of our limited seats.
Non Muslims and Muslims are welcome. Brothers and sisters are welcome, students of knowledge in Darul Ulooms and students of social sciences at University are all welcome. I highly recommend you students to sign up for this one off course. Dont miss this opportunity! For anything else, email us:
info | thequraninitiative ! comDont
miss out! 
www.TheQuran.Institute