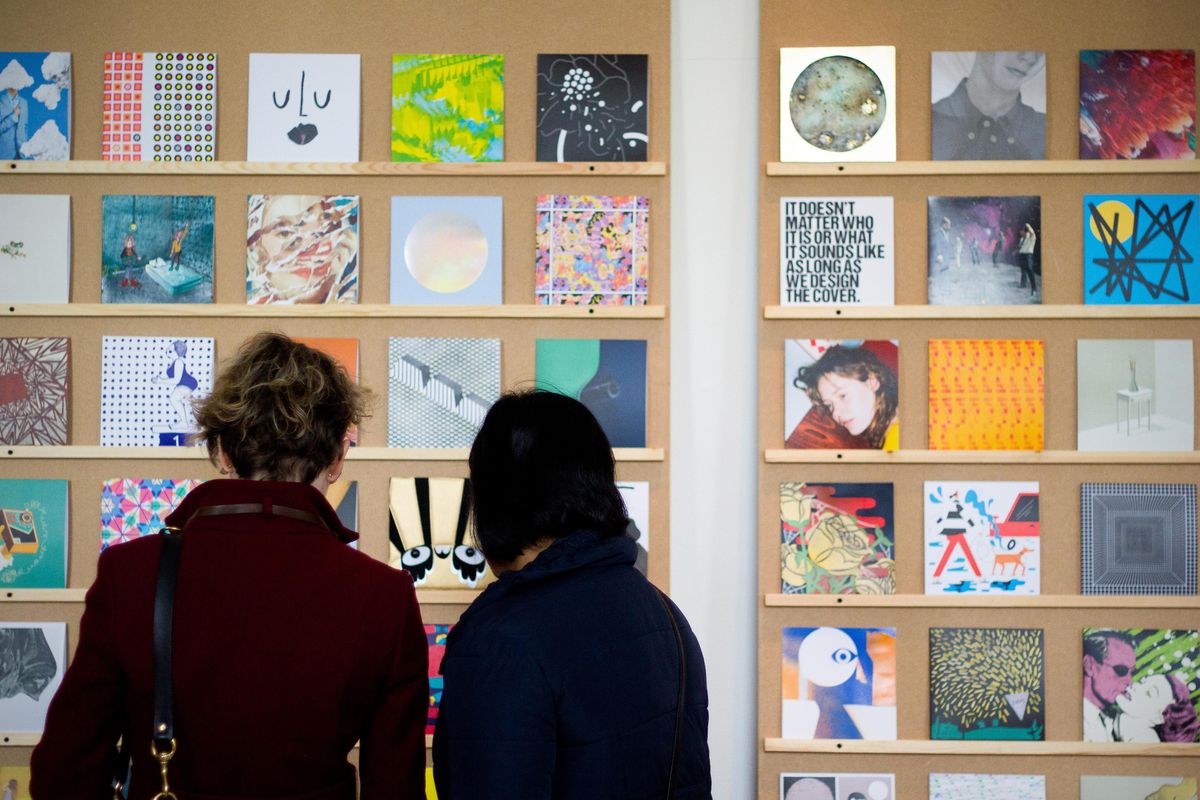 NOW Gallery, NOW Gallery, London, United Kingdom
NOW Gallery
Spread the word
NOW Gallery presents Secret 7``"
About this Event
NOW Gallery will be hosting the seventh and final Secret 7" exhibition, with leading names from the worlds of music and art collaborating to produce 700 one-of-a-kind 7" singles to benefit Help Refugees, hosted in partnership with Columbia Records and Camden Town Brewery.
Secret 7", the much-loved anonymous charity record sleeve sale, will return for its seventh event following a hiatus in 2019.NOW Gallery will be transformed with a display of 700 records each with individual sleeve designs.
The records are created by pressing seven iconic tracks onto 7" vinyl, with each track being limited to just 100 copies.
Creatives around the world – from talented newcomers to some of the world's greatest artists – submit sleeve artwork for the 700 records creating one-of-a-kind collectables that appeal to hardcore fans, record collectors and art connoisseurs alike. The 700 records will be exhibited at NOW Gallery before they are made available to buy. The identities of their creators remain a secret until the record is in their new owner's hands. Throughout its history, Secret 7" has attracted a wide variety of influential contributors. Participating musicians have included The Rolling Stones, Elton John, Lorde and Public Enemy, while artwork has been provided by the likes of Sir Peter Blake, Yoko Ono, Sir Paul Smith, and Jake and Dinos Chapman. The 2020 tracks span a variety of genres and 54 years of music history, from all-time classics from Aretha Franklin and Bob Dylan to more recent releases from Koffee and Vampire Weekend. Foo Fighters celebrate their 25th anniversary by taking their story back to the beginning as they provide their official debut single This Is A Call. This will be the final Secret 7" event in its current guise.
Secret 7" tracks for 2020:
Aretha Franklin – One Step Ahead
Bob Dylan – Blind Willie McTell
Foo Fighters – This Is A Call
Koffee – Toast
Miles Davis – Miles Runs The Voodoo Down
The Internet – Come Over
Vampire Weekend – Harmony Hall
Each ticket allows entry for 2 people of the same household or support bubble. You will have 30 mins to enjoy the exhibition.
Staying Safe During Your Visit
In light of the ongoing COVID-19 pandemic, we've introduced additional safety measures to keep both visitors and staff safe. Please familiarise yourself with the below guidelines before you arrive:
● Timed tickets are required for entry to the gallery, these tickets are available through Eventbrite only. Please ensure you arrive at least 5 minutes before your scheduled time slot, unfortunately, we cannot guarantee entry if you arrive late.
● Please follow the one-way routes and safe distancing measures both inside the space and when queuing for entry.
● We've introduced screens, installed hand sanitisers, increased cleaning regimes and decreased touchpoints.
● Please ensure you have downloaded the NHS COVID 19 App before you make your journey.
● Face coverings are now mandatory within gallery spaces. Our gallery staff will be wearing a face covering and we ask that all visitors wear one too (unless exempt) when inside the space to help keep everyone safe.
● Unfortunately, we've had to close the toilet facilities to visitors. If you require a restroom during your visit please use the toilets in North Greenwich station.
● Before making your journey to the gallery please make sure you do not have any of the following; a high temperature; a new continuous cough; a loss, or change to, your sense of smell or taste. If you do have any of those symptoms do not travel and contact NHS Direct.
We will brief all visitors on our COVID-19 protocols upon arrival and are really looking forward to welcoming you back to NOW Gallery.
iCause.com promotes public events for free and helps event organizers connect with nonprofits to attract more participants like you.
Additionally, the iCause Global Foundation enables good people to fund great causes around the world. Together, our impacts are limitless!