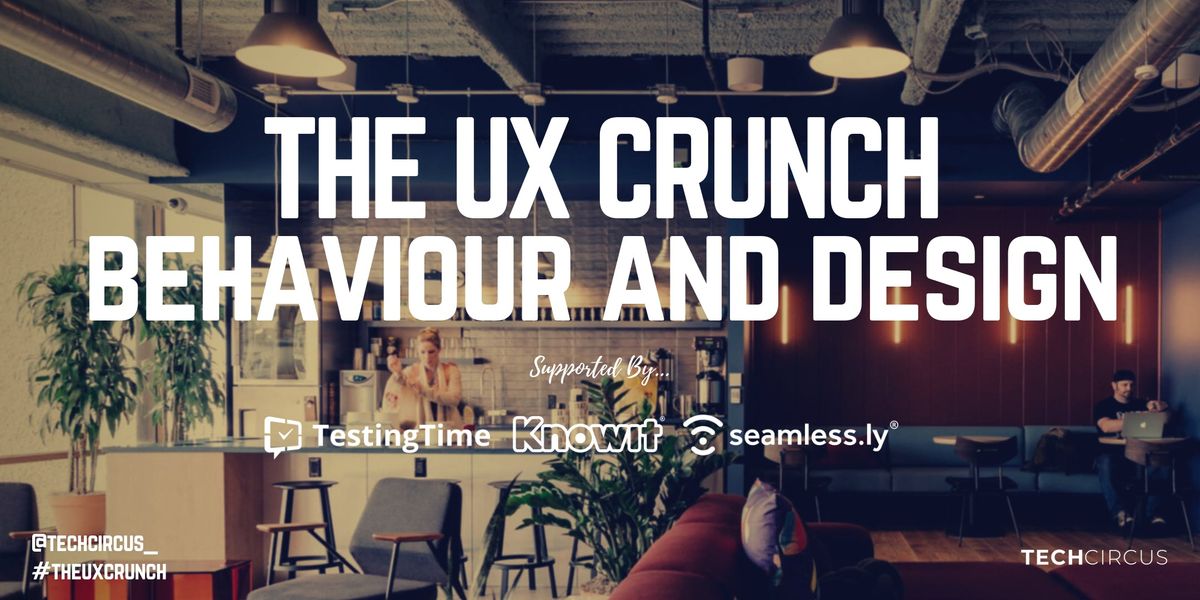 WeWork, 1 Fore Street Avenue, London, United Kingdom
Tech Circus
Spread the word
UX Crunch: Behaviour and Design
PLEASE SEE HERE FOR MORE TICKETS
Behavioural design is a sub-category of design, which is concerned with how design can shape, or be used to influence human behaviour.
All approaches of design for behaviour change acknowledge that artefacts have an important influence on human behaviour and/or behavioural decisions. They strongly draw on theories of behavioural change, including the division into personal, behavioural, and environmental characteristics as drivers for behaviour change.
Join us as we explore the psychological underpinnings of behaviour and design with key insight, case studies, networking and more.
Featuring;
Andy Marshall - Principal Consultant - Foolproof
Alberto Ferreira PhD - UX Research Manager - dnata
Sabrina Duda - User Researcher - Experian 
------------------------------------------------------------------------------------
TICKET ONLY EVENT
Please make sure you purchased a ticket to secure your place! Price includes entry to the event, plus drinks and Pizza! Tickets are NON-REFUNDABLE as we have to purchase the correct amount of drink.
------------------------------------------------------------------------------------
THE UX CRUNCH
Tech Circus is a networking and educational events company specialising in UX Design, Fintech and Search. Founded in 2015, our flagship event 'The UX Crunch' has quickly grown to become Europe's leading UX event.
------------------------------------------------------------------------------------
OUR PARTNERS
TESTING TIME
TestingTime AG has been recruiting and supplying selected test users for user tests, interviews, focus groups, diary studies and online surveys since 2014.
There are no professional testers or "study junkies" in Testing Time's pool. Their members know that they can only take part in tests at a maximum rate of one per month and one per customer. They also validate candidates over the phone and let customers rate test users to guarantee a high-quality panel. That's why Testing Time's online portal
www.testingtime.comfrequently
gets business from the likes of Zalando, Swisscom, Deloitte, UBS, AXA, Trivago and Heineken.
Knowit
Knowit is a niche recruitment agency that specialises in building Product, Engineering & UX Design teams across London, Manchester and the USA. What makes them different? A community-driven approach, an emphasis on continuously learning about their respective markets and an unparalleled network. Knowit's unique process doesn't just build your team or find you the right role; they help you to develop your talent strategy and interview processes, support you with your interviews and work with you to improve your CV.
Seamless.ly
Seamless.ly® connects people and exchanges all relevant details with the touch of a button or by sending an invite. It's specifically designed for people that regularly attend meetups or events, meet with clients and connect with new people in the office or from behind their computer. Gone are the days of manually entering and updating contact details in your phone or searching for that business card of the person you met at an event last week.
Download Seamless.ly today and start building real connections.
Seamless.ly. Connected.
------------------------------------------------------------------------------------
THE EVENT
PLEASE SEE HERE FOR MORE TICKETS
Tuesday 21st May @ WeWork Moorgate, 1 Fore St Ave, London EC2Y 9DT
Space for 250. Doors are opening at 6pm, with introductions at 6.20pm and talks beginning at 6.30pm sharp. There is a lot to get through, so we'll have a tight schedule, so please arrive on time to see the first presentation!
Tweet us @techcircus_ #theuxcrunch
------------------------------------------------------------------------------------
AGENDA
6.00pm - 6.30pm: Drinks and Networking6.30pm - 7.30pm: Intro and Talks 1 & 27.30pm - 8.00pm: Drinks and Networking8.00pm - 8.45pm: Talk 3 and Q&A Panel9.00pm: Leave venue & head to a local bar for continued networking
------------------------------------------------------------------------------------
TALKS & DISCUSSION
Sabrina Duda - User Researcher - Experian 
Sabrina has over 20 years of experience in UX and user research. She is a trained Psychologist and has specialised in Engineering Psychology, Cognitive Ergonomics, and Computer Science. She co-founded one of the first usability agencies in Germany and co-organised the World Usability Day in Berlin for many years.
Sabrina is working as a researcher for Experian Consumer Services. For the previous 6 months, Sabrina has been working for Zava developing a new product. Before that, she has been working for almost 2 years for Experian Data Quality. Other roles were at Ministry of Justice (GDS), Shop Direct Group (very.co.uk), ThoughtWorks. She is regularly speaking at events and publishing articles.
User Behaviour and Psychology - This talk will explore what drives human behaviour, the hidden psychological motives behind users' behaviour and decisions and discus whether we can use insights from psychology to create great user experiences (or we can use them to trick users).
Alberto Ferreira PhD - UX Research Manager - dnata
Alberto Ferreira is a UX and globalization services expert with over ten years of experience on both client and agency side. He has worked on improving the online experience of some of the biggest companies in the world, including Opodo, Sony, BBC, and Mars. He is currently leading cutting-edge research workstreams at dnata, which encompasses brands such as Travel Republic, Emirates Holidays and Netflights.
He is the author of Universal UX: Building Multicultural Experience, which discusses the worldwide implementation and manifestations of UX practices across a variety of markets. He was the host and curator of the Localisation Processes Forum at LocWorld for 5 years. He is a Guest Lecturer at Kingston University London where he actively mentors and tutors young UX students and practitioners. He is also a proficient speaker and writer on topics ranging from Agile to behavioural design.
A multidisciplinarian with a soft spot for music and cinema, he is passionate about the development of User Experience as an autonomous field and understanding the depth of the relationship between the human mind, reality, and digital technology.
Enhance, Engage, Expand: How to Measure and Optimise Emotion into Behaviour - Emotions have always been the tools used by dictators and clever marketeers. Research has shown that the internal emotional spectrum is the playing field of our decision-making. We are hostages to our convictions, biases, contexts, and the feelings resulting from all these. Persuasive techniques are one side of the equation in approaching this, and are effective at remedying contextual requirements. However, what can you do if you want to work on deeper and more memorable experiences that have emotion baked into the overall proposition? And, just as importantly, how to measure and keep up user engagement when designing for emotion? This talk will focus on how to trigger behavioural change using a cohesive framework, and focus on practical tips and methods that any researcher or designer can apply — big, small, or no budget.
Andy Marshall - Principal Consultant - Foolproof
More info to follow...
PLEASE SEE HERE FOR MORE TICKETS