Vauxhall Food & Beer Garden, London, United Kingdom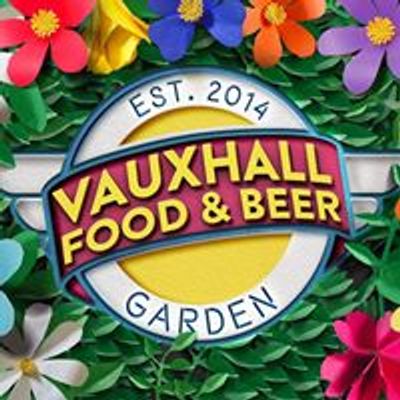 Vauxhall Food & Beer Garden
Spread the word
Summer in the sun... with your mates and a pint (or a cocktail!) in our brand new, socially-distanced open-air bar & beer garden. ☀️
Get ready to start enjoying the sunshine exactly how you are supposed to. Summer is definitely not canceled!
Featuring:
? LONDON'S BIGGEST BEER GARDEN - FLOOR SPACE DOUBLED
?️ 3 HUGE SPORTS SCREENS
? INTERNATIONAL STREET FOOD
? COCKTAILS, BEERS, WINE & ICED DRINKS
? Vauxhall Comedy Club & Vauxhall Sports Garden
⚽️ SCREENING ALL PREMIER LEAGUE & EUROPEAN FOOTBALL
☀️ MORE LIVE SPORT TBA ON Vauxhall Sports Garden
? SOCIALLY DISTANCING POOL & PING PONG TABLE
? ORDER THROUGH OUR APP - BOOKABLE TABLES
Please request a reservation using our bookings page:
https://www.vauxhallfoodbeergarden.com/reservations
∙∙∙ COVID-SECURE VENUE ∙∙∙
Your safety and wellbeing is our primary concern – which is why we have introduced a range of measures aimed at keeping you and the rest of our community safe, whilst giving you the best possible customer experience. We ask all customers to respect the measures that have been implemented whilst having a great time.
*Social Distancing* – we want you to be physically distant, not socially distant – so we have designed a seating plan that allows you maintain your safety – but still have a great time and enjoy our great atmosphere.
*Why queue, when you can app* – we want to make the ordering process as painless and carefree as possible – so we have invested in a brand new app that means you can not only order from the comfort of your seat, but pay through the app as well! Not only that but it will give you access to exclusive offers and our new loyalty system.
*More space, less people* – we have extensively re-designed the garden to almost double the amount of floor space, that means we are able to space out our amenities and you – making sure it all fits in safely.
*Cleanliness is happiness* – we have increased the frequency and intensity of our cleaning regime as well as carrying out deep cleans of all areas within the garden.
*Personal Protection* – we have installed cleaning stations throughout the garden, installed safety screens, ensured our staff have access to PPE and training, increased the amount of toilets and handwashing facilities available to you and more!
iCause.com promotes public events for free and helps event organizers connect with nonprofits to attract more participants like you.
Additionally, the iCause Global Foundation enables good people to fund great causes around the world. Together, our impacts are limitless!