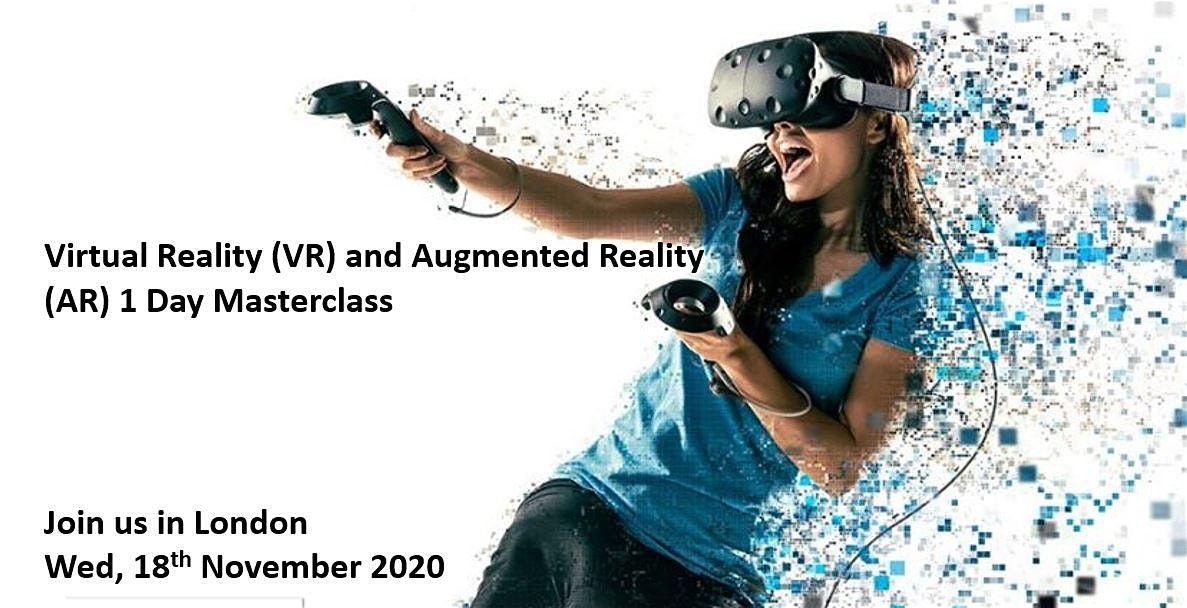 Digital Catapult, 101 Euston Rd, Kings Cross, London NW1 2RA, London, United Kingdom
Let's Learn Digital
Spread the word
By 2021, the combined market size of Augmented Reality (AR) and Virtual Reality (VR) is expected to reach 215 billion U.S. dollars. All around us we are now seeing examples of where both VR and AR can reshape existing ways of doing things- buying a new home, educating children, interacting with a doctor or watching a concert with VR and the recent launches of Apple's AR Kit and Google's ARC Core proves the tech giants continued investment in Augmented Reality applications. Some commentators now believe in the next 18 months that AR has a higher potential for growth than its more higher profile VR cousin. What is certain is that both VR and AR advances and price points decline to enable these immersive technologies to offer a future potential to unleash a multi-billion industry and possibly be as game-changing as the advent of the PC and mobile phone.  About this 1 Day Workshop:
On this 1 day workshop, our Immersive technology trainer will introduce attendees to the fundamental aspects and creative possibilities of virtual reality and augmented technology which are revolutionizing the entertainment, engineering, defence and healthcare industries. Attendees will learn how to create and manage immersive technology environments, design 3D scenes and be taught the essential element of interactivity using Oculus Rift and Touch technologyWho should attend?
This workshop is designed for marketing professionals, technologists, storytellers, writers and film producers, senior strategists and entrepreneurs who wish to fully understand the core principles and practical applications of Virtual Reality technologyWhat you will learn in this workshop
The workshop will include the following learning modules
Introduction to VR and AR- A brief history of VR and AR,- The titans of VR and AR explained; Oculus/Facebook, Samsung, Sony, Apple and Google.- The essential ingredients of presence (Tracking, FoV, peripherals, haptics, foveated rendering, locomotion, 3D audio etc)- The continued rise of MR and AR (Inside-out tracking, MS HoloLens (I will try and bring one) and why it is so important.
Content and Distribution- VR, AR and 360 content distribution platforms- What content is working and what is not- The commercial landscape- Software development platforms- Introduction to social VR- Creative tools
VR production process explained - 360 degree capture- 360 video formats- Editing 360 content- Capturing 360 sound and core principles of 360 production- How to make a simple webVR app - Group 360 photo tour project, from concept to delivery
Use cases for immersive technology
- How immersive is revolutionising multiple verticals, from healthcare, recruitment, productivity to training.- Integration of VR into existing workflows- Practical applications of ARKit and ARCore
The Future of VR and AR- The new 180 degree format- Volumetric video capture and photogrammetry- Making a simple VR animation (each person will need their laptop)- Artificial intelligence, 5G and IOT - what these will mean for immersive- Q  and ANote: the above outline is also complemented with case-studies and more specific content around the needs of the attendees 
About your VR  and AR Workshop Trainer- Jonathan Tustain
Jonathan Tustain has been fascinated and immersed in the virtual reality and augmented reality industry all his life and has immersed himself in it since 2012. He is founder of London's largest VR meetup group, Virtual-Reality-Developer-Meetup, and is well known in London VR circles and VR media writing for founding mobile VR company Proteus and freefly VR He acts as a consultant for many companies seeking to test both VR and AR applications and speaks at regular VR events such as 2018's recent Future Tech Now VR in LondonHe has written features and stories for Shots.net (for example - The future of digital actors), How it Works magazine and Yahoo and shoots video reports from VR events such as VRLO.Testimonials
"I am going home inspired, moved and energised. Your masterclass training hit so many spots for me. Apart from being fascinating on a personal level, it could not have been more relevant professionally. And having your trainer's industry experience and insight was hugely valuable. I look forward to receiving Jonathan's links and resources so I can properly process the wealth of information we covered today. The experiential parts of the workshop will stay with me for a long, long time. Your communication leading up to the event was first class. And the venues were ideal. Thank you" VR Consultant Language Trainer, Bangor College, Wales ( Sept 2018)"As a producer for a production agency, I found this course incredibly useful. I was specifically looking for a workshop that was really practical and would expand my knowledge of the production process, trends and how best to use VR. This course certainly delivered on these requirements and has really inspired me to go and learn more about this space." Client Production Manager, Ad Agency"We really enjoyed the session.  The trainer clearly had a huge wealth of knowledge of the VR industry and was able to cover a lot of the positive aspects and pitfalls of VR.  It was an interesting journey through the history of VR and also the different types of virtual media that existed. In many respects, this has given us more confidence in identifying the type of virtual media that would benefit a training solution we could offer in our area of business. We're greatly appreciative to the trainer for bringing some clarification to this from the huge range of VR choices. We made many notes of websites and facts concerning AR, VR and mixed reality that were really useful. It was also great that he also had an understanding of the different range of tools that we could use to get started on VR" Head of training, The Police
VR and AR Workshop; November 2019
iCause.com promotes public events for free and helps event organizers connect with nonprofits to attract more participants like you.
Additionally, the iCause Global Foundation enables good people to fund great causes around the world. Together, our impacts are limitless!