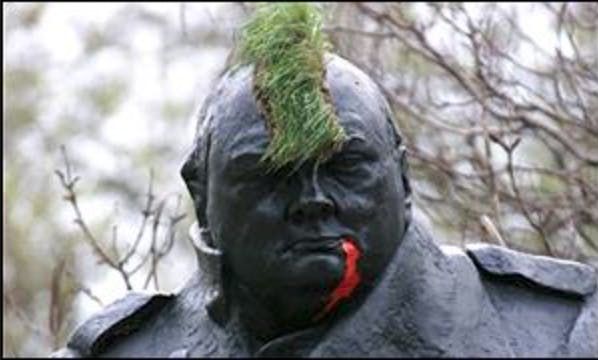 The Admiralty, 66 Trafalgar Square, London, United Kingdom
Eventbrite
Spread the word
"What Would Winston Churchill Do to Make Britain Great Again."
------------------------------------------------------------------------------
"The Spectre of Winston Churchill for post EU Britain to become Great again." 
"The Admiralty" in the "Gun Deck"
Lecture folowed by Round Table Symposium with and book signing of Dr Churchill's latest best seller book: "What Would Winston Churchill Do?" 
An afternoon with Dr P Churchill @ The Admiralty, 66 Trafalgar Square, London, WC2N 5DS.
Usher: Plese email Stuart Copeland at email:  
enquiries | securityandinvestigations ! co ! uk
 or call Zizi Tel: 07823358708 for tickets and reservations for Saturday 15th December 2019. 
Please arrive by 3:45pm, at "The Admiralty" and come down to the "Gun Deck" to find us... 
The Agenda: 
1)The spectre of Winston Churchill on post Brexit Great Britain. (4-4:45pm)
2) Coalition for Multi Party "MBGA" Politics. (4:45-5:30pm)
3) Urban Outcasts and State Apparatus Coercive Forces. (5:30-6pm)
4) Patterns of Governance that find causality for negativity in marginalising people since John Stearn, A Confirmation of Witchcraft, 17th Century, UK Crown Publication. (6-6:30pm) 
5) Questions and Answers followed by Networking. (6:30-7pm)
First off we will start with a warm conversation between Dr Churchill and Mr Stuart Copeland. 
Dr Pano Churchill, author of the latest and greatest best seller book about his grandfather Winston Churchill's approach to political, economic, and conflict resolution with EU and the leadership required to approach winningly, the really wicked problems we face as AngloAmericans today.
This lecture is aptly titled: "What Would Winston Churchill Do to Make Britain Great Again."
This talk is in defense of the real champions, leaders, and standard bearers of Western Civilization today: The Anglo-Americans.
In terms of historical reference, and in keeping with Winston's theme of always being a Gentleman, as well as a "Bon Vivant, and a Bon Homme" -- we are channeling the true Churchillian relevant Spirit, and this Round Table Talk, will take place in Winston Churchill's favourite Pub: "The Admiralty" of Trafalgar Square... 
Join us for a pint and a great discussion, but also join us to raise a glass in honour of my Grandfather, who no doubt looks down upon us from high up in Heaven and smiles as we again are fighting and wining against the Germans and their Brussels commissars, that had imposed their dastardly and evil form of bureaucratic enslavement on our little green island nation and to the rest of the nations of the European Continent.
To paraphrase Winston Churchill famous quote: "Now this is not the end. It is not even the beginning of the end. But it is, perhaps, the end of the beginning." Today, I feel the same sense of bewilderment as it was distressing for Winston Churchill in his time ... and it is now distressing for me, that we have to live in an age in which we still must fight against the forces of Evil each and every day, in order to protect our basic Civil Human Rights of Freedom, Liberty, Democracy, and Self Determination. 
Let us then think of this moment not as the end, not as the beginning of the end, but as the end of the beginning of the liberation of British people and soon enough of all the Peoples of EUrope from the detestable and illiberal Soviet Union of the EU under the German Heimat.
To that end -- we invite you to join us and celebrate the Springtime of regaining our Liberty, amid the ruins of the battle to liberate ourselves, and gain the sunny uplands of our Freedom & Democracy, away from the Orwellian hated bureaucrats of Brussells and Berlin. 
Cheers, 
Dr Churchill
PS: 
Delicious Food, Refreshments & Drinks available.
Please also RSVP at the Churchill Society: 
www.ChurchillSociety.net
Private Message to enquiries[at]securityandinvestigations.co.uk
with your interest in attending.
  Event Phone No 07823358708  Start Date 15/12/2018 End Date 15/12/2018  
Occurrence: 4pm  - 7pm
Venue The Admiralty  66 Trafalgar Square,  St. James's,  London  WC2N 5DS  United Kingdom  
Tel: 07823358708  
Ticket Price: FREE 
If our event is cancelled, or details are needed, please call this number for info and also if you want to request a scheduling for Dr Churchill as a SPEAKER in your Conference, Panels, Corporate event, or any other event that pertians to Political and Organizational Leadership, Intenrational Relations, and Foreign Policy, call telephone number here: 07823358708 or email directly the Speaker atthis email: DrChurchill[at]ChurchillSociety.net