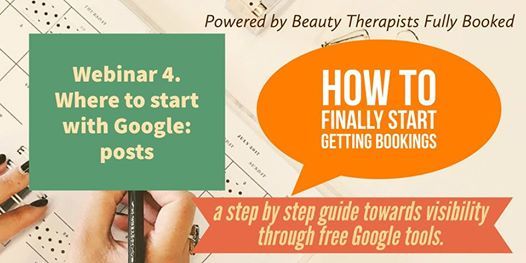 Online, London, United Kingdom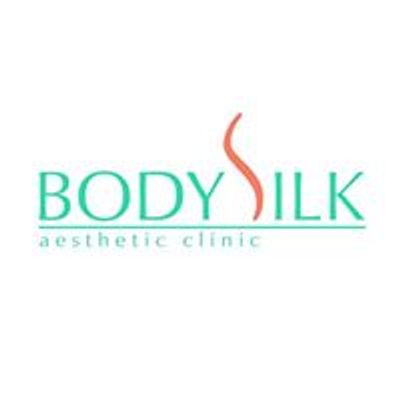 Body Silk Clinic
Spread the word
Following multiple requests, Beauty Therapists Fully Booked community, supported by Body Silk Franchise, offers a number of levels of practical business training for beauty business owners.
Description of Webinar 4:
Time: 90 min. Business posts on Google. Make your beauty business visible online. Set up your business on Google for free. You will get understanding about why you should use free Google tools to get more interest that converts to bookings. Case studies and practical assignments. Where do your Google posts fit in the Google algorythm? Practical step-by-step guide on how to create posts on Google that would allow your future clients find you.
Webinar 4 is the forth out of 6 webinars forming Level 1 intoroductory training for beauty therapists, hair-dressers and aestheticians who run their own business and would like to get a grip on the most effective tools to promote their business. The program is designed using the principles of active learning and aims at being as practical as possible. Participants will learn through a combination of practical case studies, group work and weekly online calls with the course leader. The program allows lots of flexibility in managing your learning process, apart from a mandatory group call for 1.5 hours.
Throughout the course we will cover lots of practical questions that take into account the latest trends in how you can effectively promote yourself as a beauty business owner. Participants will also be given home assignments after each webinar enabling them implement what they have learnt into practice for the benefit of their marketing efforts to bring in more paying clients.
Why do this course:
In the beauty industry, in order to get more business and keep your book filled up with appointments, 4 steps are the most important:
1) to get noticed by your potential clients: no one is going to find out what an amazing beauty therapist you are if you are INVISIBLE to your future customers;
2) once you are noticed, to persuade your clients that they should book with you, because again: if they are not convinced that you are the one, they will go elsewhere and will never find out about the fact that you are much better than your competitors;
3) to retain your customers: wow your clients, get them «addicted» to your services and treatments, so that they would not go anywhere else (despite you increasing your prices from time to time!)
4) to re-connect and keep in touch with your existing clients.
Most of the beauty therapists we spoke with, have a good understanding of step 3, some of them - of step 4, yet find it hard when it comes to steps 1 and 2. Steps 3 and 4 are outside of the scope of this course and will be covered during other training levels. After completing our courses, you will have a solid understanding of the most important online tools available to take your future clients all way through steps 1 and 2.
Who is it for?
Beauty therapists, hair-dressers, manicurists, aesthetic practitioners who run their own beauty business or would like to start working for themselves. Anyone who wants to understand the impact of visibility of their beauty business on the number of bookings and learn about important marketing tools that work.
The program is taught fully in English, and while you don't need to be a native speaker, we recommend that you speak it well enough to be able to comprehend the content of the course and communicate with other group members.
How can I contact the organizer with any questions?
Please, send your enquiries to
anna ! saprykina | bodysilk ! co ! uk