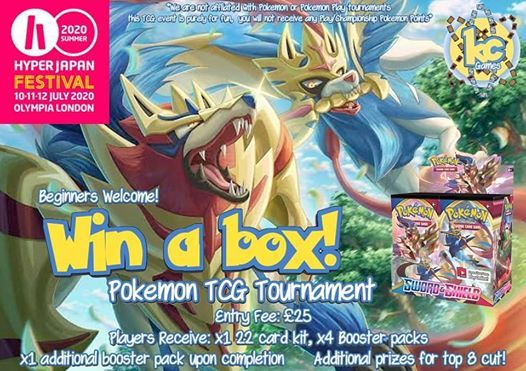 Olympia London, Hammersmith Road, Kensington, W14 8UX London, United Kingdom, London, United Kingdom
Kawaii City Games
Spread the word
Kawaii City Games are excited to announce our first ever Comic Con - Win A Box Pokémon TCG Tournament running on Saturday 11th July at Hyper Japan 2020 situated at Olympia London
The tournament will run pre-release style so that new players who may have not played alot or even at all can enter on a level playing field to battle it out to win a box, please note all player levels are welcome!
We will also have a TCG area set up all weekend where players can rent How to Play decks free of charge (players doing so must produce ID and fill in a rental form sheet).
There will also be how to play guides on display for you all weekend so literally anyone can learn to play if they wish.
Not only that but there will be an extensive amount of Singles and TCG products on sale all weekend at the Kawaii City Games Vendor booth situated directly next to the TCG area.
This is not just limited to Pokémon, we will have Yu-gi-oh, Magic and Dragonball also on display.
Please note that we also BUY and TRADE cards so if there are any lying around in the loft now is the time to dust them off.
Come join us either by Pre-booking now or on the day, however please note spots are available first come first serve and are capped at 30 players max.
If you would like to book your spot now please drop us a personal message on facebook at -
www.facebook.com/kawaiicitygame
Entry Fee: £25 per person
Registration: TBC
Start time: TBC
EACH PLAYER WILL RECEIVE:
A 22 card kit & 4 booster packs to create a 40 card deck in 30 minutes.
The tournament will consist of several rounds depending on number of players.
Please stand by for more info on times which will be added shortly.
All players will keep all cards they receive on the day.
GAMEPLAY:
Standard rules of Pokémon apply, please remember that players who go first can no longer play a supporter first turn.
4 prize cards will be used instead of the usual 6.
We will be playing with Sword and Shield Cards only.
Please see Pokémon's most recent rule book on -
https://www.pokemon.com/uk/pokemon-tcg/rules
PRIZES:
1st place: One Booster box of the latest Pokémon TCG Release.
Top 8 Cut:
2nd - 3 additional booster packs
3rd & 4th - 2 additional booster packs each
5th - 8th - 1 additional booster pack each
Each remaining player (not in top cut) will receive an extra booster pack on completion of the tournament.
WHAT WILL I NEED?:
To play in the tournament you will need a pack of 40 sleeves which cover the backs of your cards, you will also need dice.
If you do not have these they will be available for purchase on the day at a very low cost.
Other than this all you need is yourself!
QUESTIONS?:
Please don't hesitate to ask :)
Pokémon Mutant Cube Draft Tournament:
Intermediate and advanced players can look forward to an epic mutant cube battle with fantastic prizes available, please stand by for our mutant cube event page for more info
***PLEASE NOTE***
This is NOT an Official Pokémon run tournament, it is just for fun. You will not receive any Play! Points or Championship Points. We are not affiliated with Pokémon, Play Pokémon or any tournaments they run.
**Special thanks to KyorgeMaster of aminoapps.com for the Zacian vs Zamazenta image -
https://aminoapps.com/c/pokemon/page/blog/zacian-vs-zamazenta/QohX_ulvl04BYxxpG3Y6a3pXpBv3Px
**
*Special thanks to textcraft.net for the pokemon themed fonts -
https://textcraft.net/style/Textcraft/pokemon
*
iCause.com promotes public events for free and helps event organizers connect with nonprofits to attract more participants like you.
Additionally, the iCause Global Foundation enables good people to fund great causes around the world. Together, our impacts are limitless!