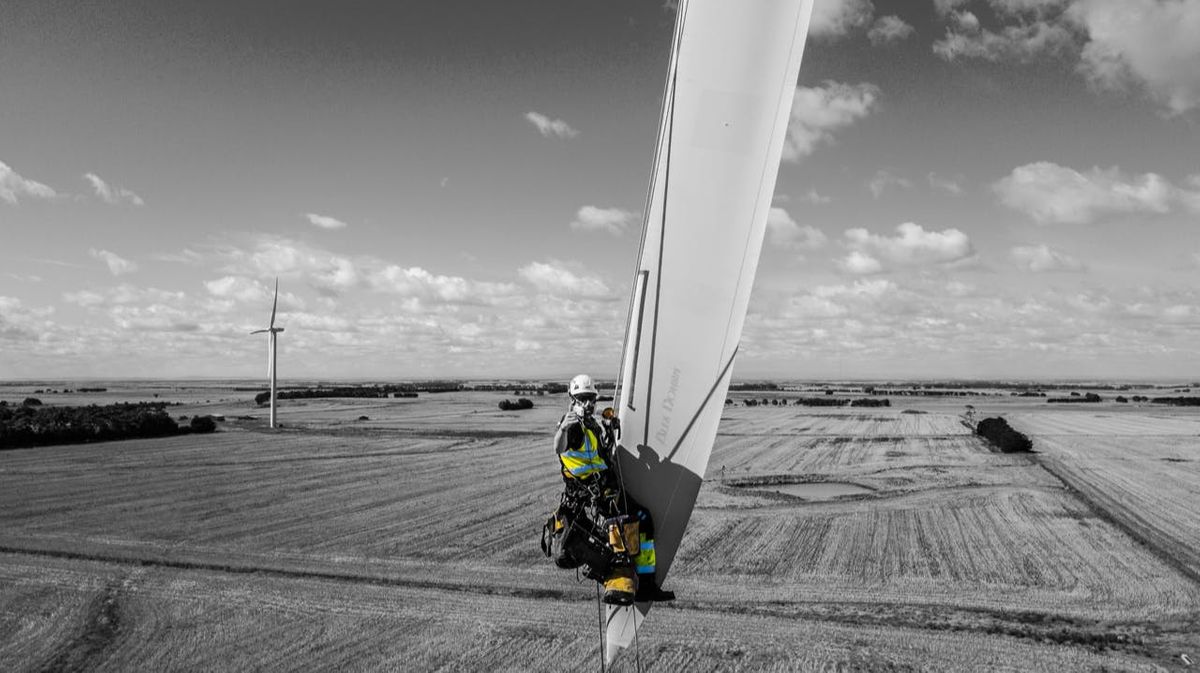 Altitec Ltd, 4 Datapoint Business Park, London, United Kingdom
Altitec Group
Spread the word
Looking for a better-paid rope access job?
Interested in a well-paid career in the renewable energy industry?
The demand for qualified wind turbine rotor blade technicians has never been in higher as the wind energy industry continues to grow. Turbine blade technicians are working in markets all over the world, and Altitec currently has teams working in South Africa, UK, Europe, North America, and Australia.
During the two week course at the Altitec Academy, you will learn the skills needed to get started in the industry from experienced supervisors and engineers in Altitec's blade servicing team.
What's covered in the wind turbine blade tech course?
Rotor Blade Awareness & Basic (Module 1)
In Week 1 you will develop the fundamental knowledge and skills needed to inspect and repair damaged and worn turbine blades – essential for anyone interested in wind turbine maintenance. We combine classroom-based learning with practical, hands-on training.
Module 1 runs from Monday to Friday in the first week of training.
ActSafe Ascender end-user training
Actsafe is a powered rope ascender which considerably reduces climbing times for rope access professionals. It's an ideal tool to help teams comply with Working at Height regulations, and Lifting Operations and Lifting Equipment Regulations (LOLER).
You will learn safe work practices for both battery and petrol-powered ascender systems. By the end of the session, you will be familiar with the latest rope access methods for wind turbine inspection.
The Actsafe Ascender training takes place during the second week of training.
Rotor Blade Technician (Module 2)
In Week 2 you build on the knowledge from Week 1 and learn the fundamentals of rotor blade repair at height. Graduates of the Altitec Academy receive a recognised qualification that enables them to hit the ground running and secure work on wind farms across the world. 
Module 2 runs from Monday to Friday in the second week of training.
Topics include:
Wind turbine construction
Rotor blade inspection and surface repairs
Classifying and reporting damage
Health and safety regulations
Overview and practice of blade repair methods
Composite repair materials and tools
Understanding chemical curing processes
Adhesion and adhesive technologies
Introduction to advanced repair methods
Actsafe Ascender end user training
Completion of the course enables you to carry out repairs at a basic level as a Blade Technician, opening the door to further on-site training or direct employment with leading global blade repair firms, including Altitec.
What's an average day like?
The schedule of an average day in the first week will follow a schedule something like the below:
09.00 – 09.15: Arrival and introduction to day's learning objectives
09.15 – 10.45: Classroom learning: rotor blade inspection
10.45 – 11.00: Break
11.00 – 12.30: Classroom learning: safety during inspection           
12.30 – 13.30: Lunch
13.30 – 15.00: Applying the ideas: inspecting a rotor blade
15.00 – 15.15: Break
15.15 – 16.45: Applying the ideas: inspection safety
16.45 – 17.00: Recap and questions
Who is rotor blade training for?
 Modules 1 and 2 are recommended for, but not limited to:
Rotor Blade Technicians, who are recommended to do both modules 
Rope Access Technicians, working in any industry (construction rigging, building maintenance etc.), who may be looking to enter a new field
Those looking to work as a Rotor Blade Technician, for whom both Modules 1 & 2 are highly desirable when applying to work in the industry
Engineers interested in rotor blade maintenance techniques and working at height
Those interested in jobs in the renewable energy industry
Wind industry service & maintenance teams
No previous formal training or technical skills are required. All relevant information will be provided through easy-to-follow presentations. The course is not dependent on a specific access method, but you will need to be confident working at heights.
Who teaches the course?
All sessions are delivered by our team of expert blade technicians and engineers. With a minimum of 5 years' experience working in blade inspection and repair, both on- and offshore, in 10 different countries, they offer a wealth of experience and insight to participants.
What's covered in the course cost?
All course materials and certification are included, as is Actsafe Ascender end-user training.
However, participants will need to cover their own accommodation and lunch costs. 
Altitec is happy to recommend options for accommodation.  
Student testimonials
"I recently attended the two blade inspection and repair modules at Altitec. The trainer's wealth of experience made for an excellent experience. I would highly recommend the trainer and the Altitec course. Thanks again." - Chris Stone - Rope Access L3
"The instructor put me through my blade repair course with Altitec. He's laidback but very knowledgeable, informative and patient. Hopefully cross paths soon in the future!" - Mark, IRATA level 2, GWO
"I completed a 2 week composite blade repair course. Very knowledgeable and easy-going trainer. His multilingual skills ensured that all pupils attending the course could follow." - Allyn, IRATA level 2, Full GWO 
If you have any questions, please email us at 
academy | altitec ! co ! uk
.