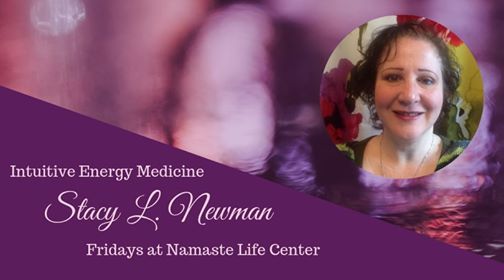 Namaste Life Center, 620 E Smith Rd w6, Medina, Ohio 44256, Medina, United States
Sweet Energies
Spread the word
Stacy Newman
Sweet Energies LLC
Intuition – Energy Medicine - Transformation
Stacy is an Empath who has been on her own healing journey for most of her life. Energy Medicine helped her overcome many issues, including life-threatening allergies. She is now happier and healthier than she has ever been. Helping others find their own capacity for healing brings her tremendous joy. She is the co-author of Tools for the Sensitive Soul: The Empath's Survival Kit.
Stacy's specialties include allergies and other sensitivities, brain health, autoimmune issues, releasing shock and trauma from the body, and finding clarity about life purpose. Her sessions involve hands-on table work as well as instruction in energetic self care.
Sessions Offered:
Intuitive Energy Medicine: Assessment and balancing of your basic energy systems, including Grounding, Aura, Meridians, and Chakras. Energy work addresses the physical body and emotions without labels or analysis. Over time it can help clear up the underlying issues that create dis-ease. Self-care exercises will be shared to help you with your specific issues as well as general balance and resilience.
60 Minutes $90 90 Minutes $135
Acupressure: Using the Five Element System (Water, Wood, Fire, Earth, Metal) of Traditional Chinese Medicine, as well as the Extraordinary Flows, and specific therapeutic points, acupressure gently restores balance and releases blocks in the body and emotions.
60 Minutes $90
Reflexology: Working with the feet and hands can bring balance and release tensions held in the entire body.
45 Minutes (Hands or Feet) $75 90 Minutes (Hands & Feet) $135
A Taste of Energy Medicine Mini-Session:15-Minute energy balancing plus 5 minute consultation:
Release long-held blocks from the Meridians and Aura and address Grounding issues. Feel more centered and at home in your body.
Self-care tools will be recommended. $25
Follow this link to schedule your session:
https://namastelifecentertfisher-88.youcanbook.me
/