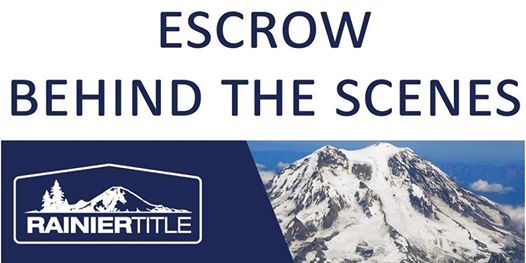 Yarrow Bay Training Center, 10604 NE 38th Place, Quad 1 North, Suite 110, Kirkland, Washington 98033, Medina, United States
Coldwell Banker Bain Education
Spread the word
Escrow: Behind the Scenes
(3 Free Clock Hours in WA)
*This registration page is to attend In-Person. If you want to attend the stream, be sure to register using the In-Branch Stream registration page.
Instructor: Chris Hall (Rainier Title)
This lively and informative class will explore the escrow process from the opening of escrow to the final closing statement. Brokers will gain an understanding of the closing process and their role in the process. Key topics include:
Understanding the process and a typical schedule for a smooth closing
Identify the information that is needed to create escrow instructions
Learn how to prevent some to the common issues that can occur during closing
-------------------------------------------------
Please Note:
This is an exclusive event for CB Bain, brokers, staff, and guests by special invitation.
If you cannot attend it is very IMPORTANT that you CANCEL your registration!
Clock hours for this course are for WA brokers. All chapters must be completed before receiving certification.
We respectfully ask that brokers, who are sick, consider their fellow colleagues and abstain from attending classes until they are no longer sick.
In case of an emergency or unforeseen cancellation of an event, the registered attendees will be notified by email.
Thank you!