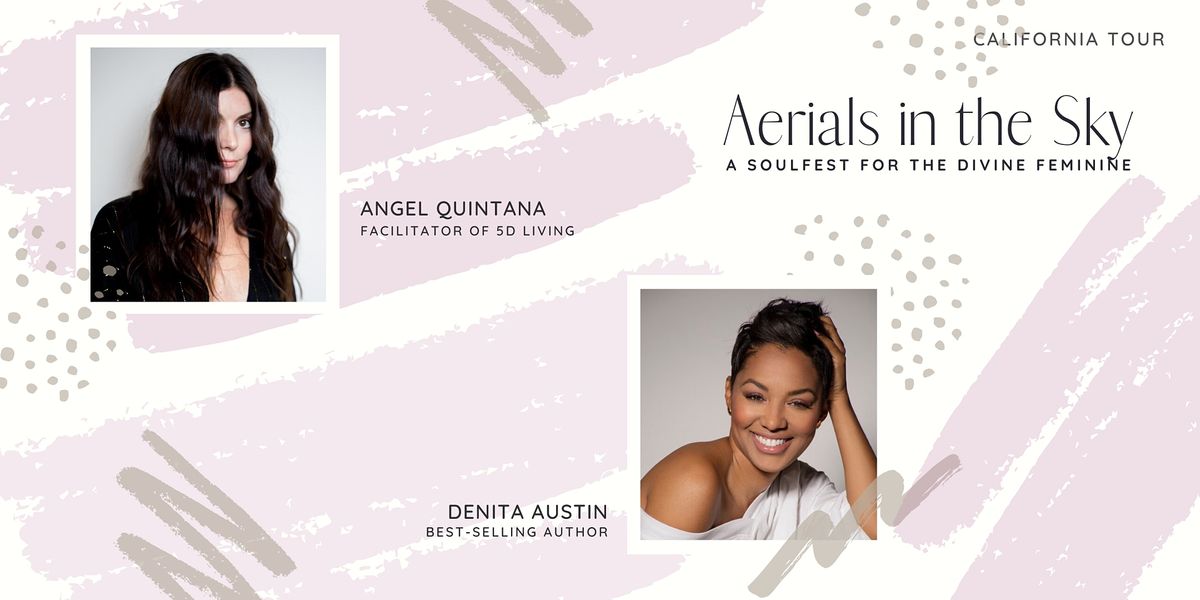 TBA - Monterey, Address Available to Attendees, Monterey, United States
Eventbrite
Spread the word
AERIALS IN THE SKY is a traveling soulfest for the divine feminine ready to rise to her divinity through the power of manifestation and story.WHO THIS EVENT IS FORIf you have suffered or are suffering from a chronic health condition, a broken heart, traumatic event, or are on a spiritual journey ready for the next path to be revealed, this event will help you find the light during your darkest hour and the magick that lives inside you. You'll also be shown the power behind the events that have taken place in your life and how they can reveal your true life's calling.
WHAT WE'LL DO We will gather in our sacred space to connect on the topic: The Power of Manifestation and Story. Manifesting comes from a place of pure unconditional love from within and the power of story can be a liberating experience for the soul.
WHAT ELSE SHOULD YOU KNOW? WHAT IS IT?
• When you arrive, we will have time for Introductions from each guest• Meditation session for setting our intention for ourselves• Choose your favorite crystal to set your attention for the year
Special Talk From Angel on the subcsconscious mind and how to master the art of manifestingSpecial Talk From Denita on The Power of Story and how it can transform our lives and others
WHAT WE WILL PROVIDELight bites and teaWHAT SHOULD GUEST BRINGNotebook and penBONUSES Ariels in the Sky Gift Bags
* VERY LIMITED SEATS AVAILABLE (Register Early for discounted tickets until Feb 29, 2020! Price goes up on March 1, 2020)
ABOUT ANGEL --
www.HolisticFashionista.comAngel
Quintana is the Founder of Holistic Fashionista, a community-based platform and magazine supporting those on their spiritual journey into the 5th dimension.
Angel is a Life Path Astrologer®, Tarot Reader, writer, and master manifestor. With extensive metaphysical self-study, 30+ years practicing astrology, and having mentored thousands of holistic leaders around the globe in discovering their life path, Angel certifies change agents in her Life Path Astrology Reader methodology so they may create a soul-based business helping others discover their life path and pay it forward.
Since her dark night of the soul in 1997 (lasting nearly 20 years) and through a spiritual awakening in 2016, Angel is an educator on an array of topics around: The Age of Aquarius, Soul Astrology, and the Rainbow Bridge. The divine downloads she's received from alchemist St. Germain, eye-opening dream-stories, hypnosis + past life regression, along with numerous healing experiences, has nurtured her connection to the 5th Dimensional Realm, which has provided the foundation for her mystical inner-standings and sacred teachings she shares openly inside the Holistic Fashionista Mystery School.
Angel is also a Certified Holistic Health Practitioner + Nutritional Consultant, apothecary, and a practicing astrologer of 30 years. She has appeared on Real Talk San Diego, SDVoyager, recommended entrepreneur to follow on social media by CoFounders Town, and is a Los Angeles Business Journal Rising Star Nominee for Women Making a Difference. She is from Encinitas, California and currently resides in the beautiful San Diego neighborhood of Mission Hills where she works from home with her 2 dogs, Phoenix and Bandit. Angel offers Life Path Astrology Readings on YouTube/iTunes and via video conference for those ready to be the change they wish to see in the world.
ABOUT DENITA --
www.DenitaAustin.comFounder
of Austin Ink Studio, Best Selling Author, Motivational Speaker, and Certified Yoga Teacher of 13 years. With a spirit that's gentle yet immense, and which exudes the confidence of conviction mixed with a warm and sensitive personality: Denita's voice and soul flow through all that she does.
Denita is a proud partner and experience host of Airbnb, a proud contributor to Holistic Fashionista Magazine, SheKnows Media, Yogi Approved, and the extraordinary BlogHer platform. Throughout all her writings, special events and talks, she holds an ambition to stimulate thought and self-inquiry, and evoke and reveal one's life purpose. With more than 13 years of experience teaching yoga, Denita encourages women to support one another in their professional and personal lives. Indeed, Denita's greatest passion is to bring about a positive transformation for women in their personal and professional lives. In this vein, Denita is also very proud to have served as a panelist for the Washington DC chapter of Oprah Winfrey's Belief project.
Her impassioned presentations exemplifies her true devotion to her clients. There is an exotic characteristic that transforms Denita's writing, talks, and special events into a blissful and relieving experience that has clients returning over and over again. These complementary skills morph into a true symphony of peace, harmony, inspiration, and inquisitiveness. Currently working on her 8th book, she continues to support women on their journey of building self-confidence, leading with the best version of yourself and providing a dose of inspiration to Ignite Your Passion and Inspire your Divine Purpose.