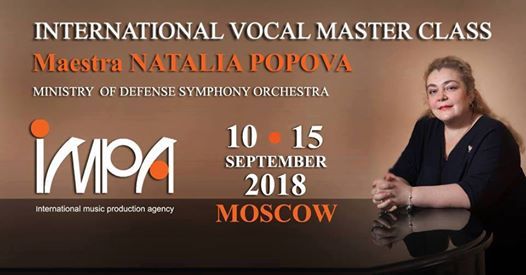 Москонцерт на Пушечной, Пушечная ул., д. 4, стр. 2, Moscow, Russia, 109012, Moscow, Russia
IMPA
Spread the word
Шестидневный Международный вокальный мастер-класс. От техники до интерпретации под руководством маэстро НАТАЛЬИ ПОПОВОЙ.
Участники мастер-классов - вокалисты всех национальностей без ограничения возраста.
Каждый участник получит возможность выступить в двух концертах, один из которых в сопровождении оркестра. Отбор проводит мастер курса.
Успешные участники будут представлены европейским агентствам для дальнейшего сотрудничества.
Профессиональная фото- и видеосъемка всего мастер-класса, включая финальный концерт входит в стоимость
Более подробная информация на сайте
http://impa.tilda.ws/vocal
International Music Production agency presents:
International vocal master-class. From practicing to performace led by famous Russian vocal coach Natalia Popova.
The course is open for professional singers without age limit.
Every participant can perform in 2 concerts (1 with the orchestra) (master's choice)
Successful participants will be introduced to European management agencies.
Master-course programm includes fragments of the greatest operas.
Professional photographing and video shooting of whole master-class with final concert are included in the price of the master-class
More information at our website
http://impa.tilda.ws/vocal