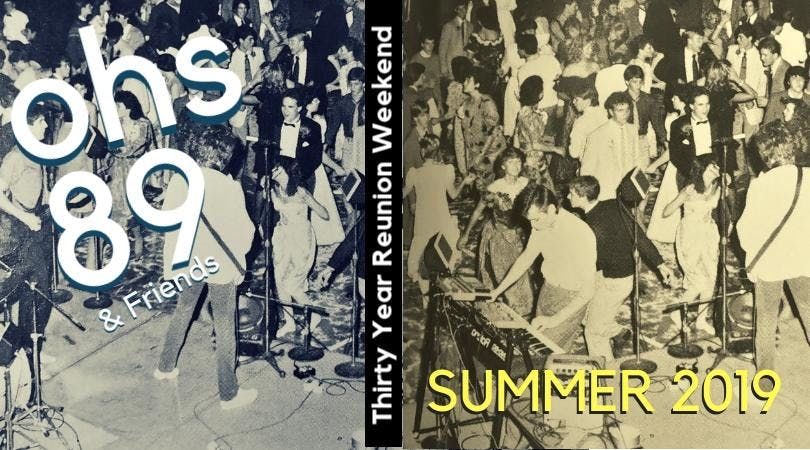 Various Locations - See Tickets for Details, Olympia, United States
Eventbrite
Spread the word
"I just hope that future seniors will be as cool as us seniors were."- Corey Skarperud, June 1989.
There's nothing we can do about those who came after us, but we can certainly break away from our busy lives of adulting, forget about the stresses of the present, and get together for the first time in ten years--thirty years after graduation. This year, we're hoping our cohorts from the classes of 1988 and 1990 will join in on a few of the activities, since we have so many friends that spanned more than just the class of '89.
We also have some new ideas for the dinner banquet. If you love the good stuff, then bring cash (or check), as we'll be doing a delicious dessert auction instead of including it in the meal. Dessert will be served by your favorite classmate to the highest bidding table and we'll donate the proceeds to a local Olympia Charity. Finally, we're always looking for new ways to connect and, since this will be happening over Lakefair weekend, we're inviting everyone to consider running as a group in the 8k fun run.
Everyone is looking forward to seeing you. Sign up for as many or as few events as you'd like.
FAQ:
When is the reunion?
We're currently booked from July 19, 2019 to Sunday, July 21. Events are scheduled on all three days, but you can participate in as many or as few as you like.
How much does it cost?
Some of the events are charged per person (you + optional spouse) and other events are free. Special activities, such as the Lakefair run and hotel accommodations, will require additional registration (see ticket's for details). The free activities are open to everyone, regardless of what year you graduated. The Saturday night banquet, however, is reserved for the class of '89.
IMPORTANT: In order to reserve the event space more than 90 days in advance, we need at least 40 people to book at least one hotel night, so please consider a short stay-cation with your classmates. Classmates from all classes (88, 89, and 90) are invited to book hotel rooms on either Friday or Saturday nights (or both).
Why did we invite 88 and 90?
Many of us have friends in either or both classes that we'd like to see again, Traditional reunions are focused on a single class instead of a group of cohorts. It'll be interesting to see turnout. 88 might be burned out, having just had theirs, but we did a small get-together in December 2017 with all three classes and feedback was overwhelmingly positive.
What's up with the fun run?
We're looking for new ways to connect with each other. Some people have asked for activities where they can connect with a smaller group, as well as activities not centered around drinking and eating. Lakefair is already happening, so why not piggyback on the festivities.
What's up with the dessert auction? Can't we just have Petit Fours like everyone else?
We're not like everyone else. :) We like intrigue, competition, and overly-delicious food. The primary purpose behind this idea is to raise some dough for a charity in the community we grew up in and in which many of us still call home. It's a chance for us to collectively give back.
We're looking for 8-9 classmates to show off and preapre a fancy dessert that they will serve to the highest bidding table. Remember: this isn't bargain shopping. We're hoping to have a little fun and raise a big chunk of change for our community. If you'd like to make a dessert, let the committee know. We're also looking for anyone with auctioneer skills. If that's you, show us your talent and let the committee know you're interested in helping out.
What if I have ideas for other activities?
More choices is better than fewer choices. If you want to propose/sponsor an activity, let the committee know and we'll add it to the schedule.
What if I don't like anyone from High School?
Come anyway. You may be suprised how many people really would love to see you. If you don't believe that, then I guess you probably should consider doing something else that weekend. But you wouldn't have read this far if you were really thinking that, right?
How do I tell everyone on Facebook that I'm awesome and I'm going?
Go to
https://www.facebook.com/events/291560084985003
/ and register.