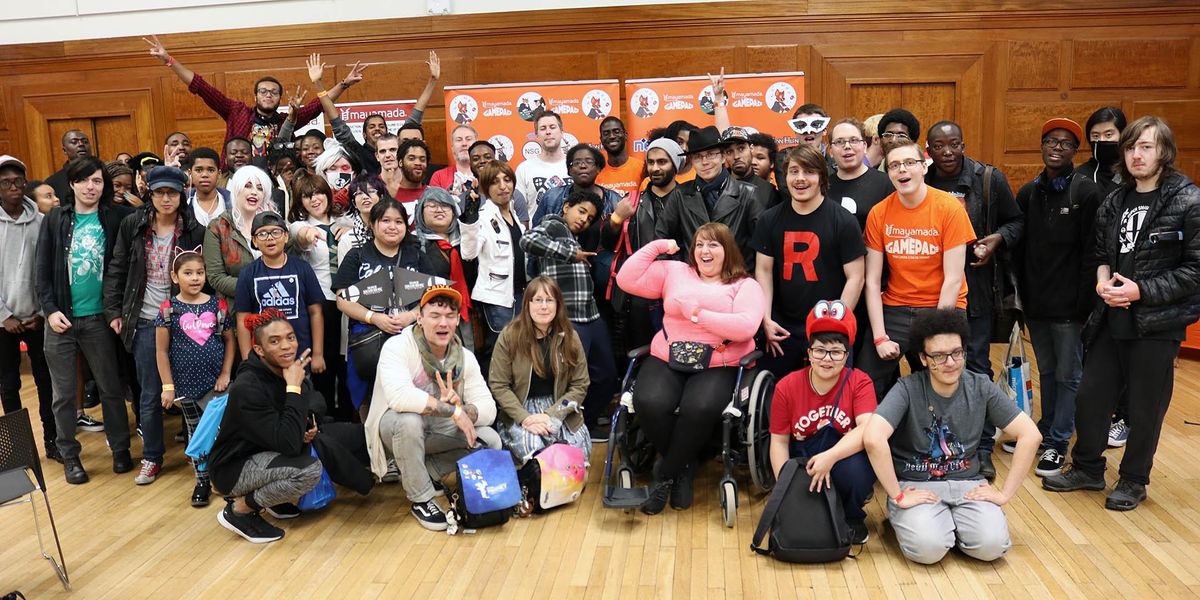 Online, 0
mayamada
Spread the word
mayamada GamePad is an inclusive gaming experience. Celebrate the summer with a great line up of games, cosplay and prizes for all ages!
About this EventGamePad Online is a virtual video game event bringing communities together to celebrate the culture we all love, from the comfort of your home. GamePad Online - Making Gaming Fun For Everyone, Everywhere.
In June we'll be taking the GamePad experience online for an interactive live streamed event combining gaming, cosplay and industry interviews for an online watch party this summer!
2020 is already off to a great start and there's more to come. Our second event of the year will see more games and a bigger cosplay experience as we partner with Hyper Japan ahead of their summer festival in July.
Here are just a few attractions to look forward to:
FRIENDLY FIRE COMPETITION
You know what they say, keep your friends close and your enemies closer! We're bringing together gaming communities for a friendly competition where they'll be competing for you. Get Well Gamers, Melanin Gamers, Stream Cast and more will be battling it out online, playing for prizes for their communities.
Stay tuned for the confirmed games list and join the live chat on the day to cheer on your team!
COSPLAY @ HOME
Cosplayers of all ages can get involved in the GamePad Online cosplay showcase! We're excited to see what characters join us on the day.
Get involved by sending us a photo of your best cosplay through our upcoming Discord community (launching June 19th) on the day and you'll be entered for one of the following categories:
Best Video Game Cosplay (16+)Best Video Game Cosplay (Under 16)Best Recreated Scene Cosplay
Our panel of cosplay judges will be keeping a keen eye on entries and GamePad Online Host Tazziii will be announcing the winner at the end of the event
ANIMAL CROSSING: NEW HORIZONS
You didn't think we'd miss Animal Crossing, did you? We'll be laying down some Animal Cross challenges over the day for prizes, so get your Switches ready and join the GamePad Discord community launch June 22nd to find out how you can get involved.
INDUSTRY INTERVIEWS
Interested in a career in gaming? Or just curious about what it takes to make your favourite games?
With the help of GamePad Online sponsors Into Games and event supporters the French Cultural Institute in London, you'll get to see content and interviews with amazing people across the video game industry.
Keep an eye out on the mayamada social media for a full lineup.
DISCOVER THE MAYAMADA UNIVERSE
Did you know we also make manga? We're creators of original manga-style comics set within our own universe of anthropomorphic characters. So far we've released 8 different graphic novels and comics and as well as running GamePad, we exhibit at comic conventions across the UK and internationally!
Our work as been featured in Vogue, GQ, NEO Magazine, Mashable, Bleeding Cool and the BBC among others. You can get your hands on a copy of our latest manga at GamePad and have your copy signed by mayamada co-founder Nigel Twumasi!
WHERE WILL WE BE
GamePad Online will be streaming across Twitch, YouTube and Mixer on Saturday 27th June 2020. Get your tickets and you'll be send a link to tune in on the day.
Plus, every ticket holder will be entered into our draw to win one of two framed Mario Kart inspired mayamada artwork. Winners will be announced during the GamePad Online livestream.
MAKING GAMING FUN FOR EVERYONE
GamePad is an experience for everyone to enjoy the video games, meet friends and be part of a community we're growing to promote inclusion and diversity in the games we play and the people who make them.
"People were interacting with others while gaming, and it gave me the opportunity to share time with my children doing what they enjoy." - Sally
"I liked the diversity in terms of age ranges and people, we were all from different backgrounds and ethnicity but all with the same love..." - Miguel
"Great atmosphere, good for the family i.e. No 18 games so everyone could join in. Good fun!" - Tracey
SUPPORTERS OF GAMEPAD
GamePad is made possible by the support of community groups and industry heavyweights:
FREQUENTLY ASKED QUESTIONS
Updates to come. In the meantime you can send any questions to gamepad | mayamada ! com