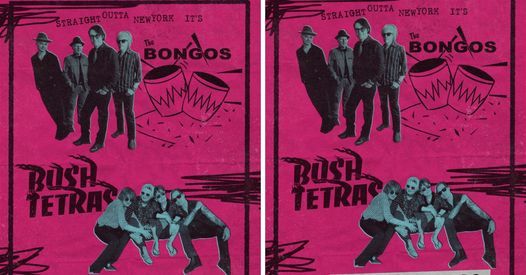 World Cafe Live, 3025 Walnut St, Philadelphia, United States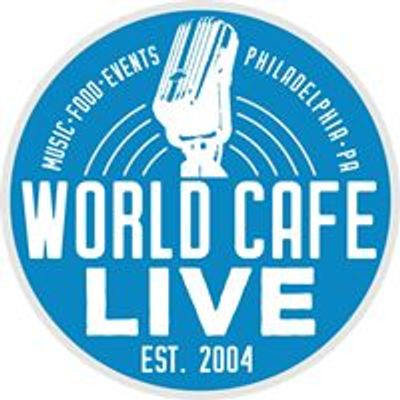 World Cafe Live
Spread the word
*RESCHEDULED FROM 7/17 - ALL TICKETS VALID*
The Bongos / Bush Tetras at World Cafe Live in Philadelphia, PA
Doors: 7 PM / Show: 8 PM
$20.00 - $33.00 (no fees with cash at the box office, excluding mezzanine)
The Bongos
New York City's musical landscape in 1981 was a hotbed of innovation and experimentation. There was an attitude of anything goes, that anything was fair game. Punk and New Wave had forced audiences to reevaluate and reconsider the parameters of rock and roll itself. The No Wave movement that flourished in the arts spaces of SoHo and TrBeCa brought in elements of noise, contorted funk, and the avant-garde. When the dust settled, The Bongos and Bush Tetras emerged as favorites of the art scene and dance clubs. Both bands performed at the legendary no wave art nightclub Tier 3 and, before long, found themselves on tour together as a double-bill throughout Europe, both releasing records on the U.K's influential Fetish label. This special evening at World Cafe Live marks the first time the two bands have performed together since that monumental tour that foreshadowed the birth of what was soon to become known as Alternative Rock.
The Bongos were founding fathers of the Hoboken pop scene of the 1980s and, with a handful of others, were progenitors of the Indie Rock movement that followed. Led by Richard Barone, the group recorded its debut album Drums Along the Hudson (1982, PVC Records) primarily in England. With its unique mix of Beatlesque melodies, experimental outbursts, sensual rhythms, power pop and punk sensibilities, the album was a critical smash on both sides of the Atlantic and a college radio staple in the U.S., spawning their Billboard-charting cover of the T.Rex classic "Mambo Sun". Relentless touring led to signing with RCA Records, the addition of guitarist James Mastro, and the release of the group's sweeping signature song "Numbers with Wings" (1983, RCA). Its accompanying video became an instant MTV favorite, earning a nomination at the first Video Music Awards. Tracks like "Barbarella" and "Tiger Nights" fared well on the fledgling alternative radio format and further raised the group's profile. They released Beat Hotel (RCA) in 1985, a year that saw them perform over 300 concerts. At the end of that year, they retreated to the Bahamas with music legend Chris Blackwell and co-producer Eric "E.T." Thorngren to record what was to become their long-lost Phantom Train album, which finally saw the light of day in 2013. By 1987, each member of the group, Barone, Mastro, bassist Rob Norris, and drummer Frank Giannini began to pursue solo projects and other collaborations, and performances by The Bongos became increasingly rare. In 2013 they reunited to perform on the final night of their beloved home club Maxwell's in Hoboken, the venue where they were also the first act to perform. Since then they have reunited for special events and mini-tours. In 2020 they will be making select concert appearances to celebrate four decades of Hoboken pop.
Bush Tetras
New York City legends the Bush Tetras have been making paranoid, groove-centered post-punk since 1979, when Pat Place left James Chance and The Contortions to found the group with singer Cynthia Sley, bassist Laura Kennedy and drummer Dee Pop. Though spared mainstream success in an era when female fronted groups in the charts were pop acts, the Tetras' single "Too Many Creeps" (1980) was a huge club hit and remains a classic. Their first batch of songs, collected in 1989's Better Late Than Never, massage the hard angles of no wave into deceptively simple, deadpan grooves that change when you least expect them to and brilliant, idiosyncratic lyrics. The group's early work is a masterclass in style and playfully infectious. In the mid-90s, the Bush Tetras reformed, morphed and weaponized. 1995 saw the release of Beauty Lies (Produced by Nona Hendryx) after which Laura Kennedy departed the group. Though recorded in 1998, the follow up album Happy would not see release until 2013. Produced by Don Fleming. The Tetras welcomed veteran bassist Val Opielski as a new permanent member in 2016 and performed live at a sold-out tribute for Lou Reed at Lincoln Center in 2017. The last few years have found the rejuvenated band performing all over the USA as well as Canada. In 2019 they performed at the Primavera Festival in Barcelona Spain. Currently they are celebrating their 40th year of live performances highlighted by a triumphant show at Le Poisson Rouge in NYC. This was followed by a headlining set at the Nrmal Festival in Mexico City. The story continues!
iCause.com promotes public events for free and helps event organizers connect with nonprofits to attract more participants like you.
Additionally, the iCause Global Foundation enables good people to fund great causes around the world. Together, our impacts are limitless!