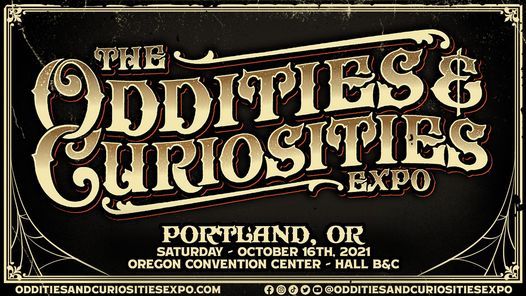 Oregon Convention Center, 777 NE Martin Luther King Jr Blvd, Portland, Oregon, États-Unis 97232, Portland
Oddities & Curiosities Expo
Spread the word
For Lovers of the Strange, Unusual & Bizarre...
DATE: Saturday, October 16th, 2021
TIME: 10AM - 6PM
LOCATION: Oregon Convention Center
ENTRY COST: $10 // 12 & Under Free
**WE HIGHLY RECOMMEND BUYING YOUR TICKETS IN ADVANCE FOR CONTACTLESS ENTRY!**
ABOUT: The Oddities & Curiosities Expo showcases hand selected vendors, dealers, artists and small businesses from all over the country with all things weird. You'll find items such as: taxidermy, preserved specimens, original artwork, horror/halloween inspired pieces, antiques, handcrafted oddities, quack medical devices, clothing, jewelry, skulls/bones, funeral collectibles & much more. We truly have something weird for everyone. All items you see at our shows are legal to own and sustainably sourced.
The O&C Expo provides a safe place for anyone to come and discover new artists, meet new friends and be surrounded by an amazing community of like-minded people.
For more info and to view our COVID-19 event guidelines:
odditiesandcuriositiesexpo.com
-------------------------------------
2021 TICKETS TBA
-------------------------------------
** CONFIRMED VENDORS **
aCopperLining
Amaranthyne Designs
Ami Amore's Amorticious
Ampersand Curiosities
Andy Sciazko Art
AP Obscurae
Art From The Strange Land of Beelaungeen
Art Minion Designs
Asana Natural Arts
Atomic Folk Art
Baba Yaga Balenciaga
Baby Dear Harvest
Bat In Your Belfry
Batty-Fang Oddities
BhaktiBee Art
Bossities
Burning Paper Hearts
Caitlin McCarthy Art
CkyArt
Clockwork Art
Coble Taxidermy Emporium
Corner of the Eye
Cultura Chocolate
Custom Cranium
Daisy Metalworks
Dark Arts & Roses
Deadly Creative
Devil - ish Little Things Museum
Edwards Art + Design
Eon/Gloworm photography
Epitaph Oddities
Eunoia Oddities
Feral Hag
Frozencritters
Ghoulish Bunny Studios
Gratefulbones
Grave Goat Art
Helen Mask Illustration
IMGeffects
In Rooms Gallery
johnwayneisdead
Josh's bone yard
JxRxKx llc
K.C. Welch Art
Karen Jerzyk Photography
Katherine Webber
KattSplat!
Kelly's One of a kind Mink
Kissing corpses
Krampus Store
LadyAlchemy13
LB's Curiosities
Lil miss oddities
Little Ghouls
Little Spooky Studio
Lost Wonder Photography
Lux Nova Studio
Mad Tatters
Mallory Hart Art
Mary Syring
matchcreature
Mattie Bowden Jewelry
Maxine Miller Studios
Mellifera Arts
Michima Dark Art
Mimi's Haunted House
Mister Mayhem
Mortus Viventi
MsFormaldehyde
Nana Williams
Nature's Design Taxidermy
Night Rituals Occult
Nikol King Art & Design
Noctua Luna
Oakthorn Studios
Of Elsewhere
PAINTDEAD Artwork by Jacqueline Gallagher
Painted Points
Painted Points
Papermoon Gallery
Point Blank Art & Design
Print Ritual
PRL Creative
Queen Mab's Store/Fogg Couture
Quiddle and Futz
Ritual Oddities
Robert Tritthardt (Artist)
Rushing's Rarities
ScientificWoman
Secret Cupboard Creations
Skullgarden
Skyward Asylum
Spirit bear magical arts
SSSONNY
Stargazer Goods
Sweet Siren Designs
Talismana Designs
The Art of Jordan Monsell
The Art of Valerie Herron
The Art of Yosiell Lorenzo
The Boxed Hag
The Creeping Moon
The Green Wolf
The Poshness Monster
The Pretty Cult
The Submissive Stone
The Wondering Alchemist
tiny brown bird studio
Tiny Thunder
Trippy Vixen Creations
Unlovable
Voodoo Doll Designs
Vulture Culture Finds
Wanderlust by Brittany
Western Evil
WitchWay Crystal Shoppe
Wolftea creations
Woodland Shrine
Xavier - BUILTFROMSKETCH
iCause.com promotes public events for free and helps event organizers connect with nonprofits to attract more participants like you.
Additionally, the iCause Global Foundation enables good people to fund great causes around the world. Together, our impacts are limitless!