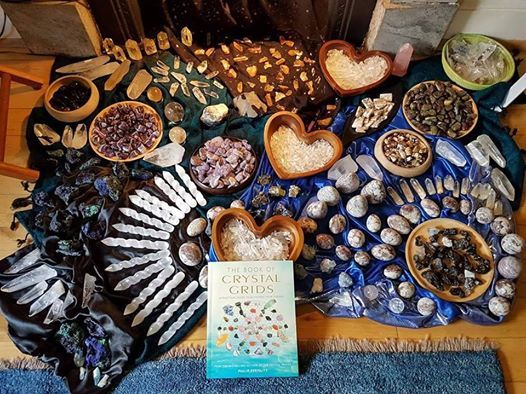 The Crystal HealerUnit 1, The Verulam Estate, 224 London Road, AL1 1JB Saint Albans, Saint Albans, United Kingdom
Philip Permutt
Spread the word
Crystal Healing Course Level 1 Learn Crystal Healing with Philip Permutt Bookings 07808 730750
Crystal Healing Course Level 1. The Crystal Course with Philip Permutt "Britain's leading crystal expert" (Daily Mail) NOW IN IT'S 26th YEAR! Saturday & Sunday weekend workshop 10am - 4pm both days £175... (£185 from 2019) "I've had experiences with crystals before but this is on a whole different level" (Katy, London)
Future dates:
November 17/18 The Crystal Healer, St Albans, Hertfordshire ONE PLACE LEFT!
2019
January 12/13 The Crystal Healer, St Albans, Hertfordshire
January 19/20 The Koorana Centre, Ardingly, West Sussex
March 9/10 The Crystal Healer, St Albans, Hertfordshire
April 6/7 Hartsfield Manor, Bethworth, Surrey
Bookings 07808 730750
"Oh wow! That was brilliant! This is what I want to do!" (Chris, Chessington)
"I could feel the energy flow in my body" (Lyndsey, London) "It felt really awsome!" (Clive, Bedford)
ALL Crystal Courses can be booked through The Crystal Healer 07808 730750
"It's Awsome! It has spurred my passion (for crystals) even more like a fire in a fury!" (Steph, London)
Crystals have a wonderful natural energy of their own. They are easy to work with for self-healing, self-development and treating clients. This course weekend workshop involves discussions and practical work with crystals, how crystals work, what crystals do and how to work with crystals. We will also explore the many ways that crystals link to other therapies such as Reiki. Philip's Crystal Course now in its 26th year! The crystal course is certified.
"What did I like? You shared so many tips, expertise, stones, a wealth of experience" (Kate, Arizona & Essex)
"I've been using crystals in my therapy for ages, but now I view them totally differently" (Kirsty, Deal)
Crystals and Crystal Healing Course Syllabus Level 1 (2 days)
Introduction to crystals, what they are, how they are formed, identifying crystals (on-going throughout)
Sources of information, recommended reading, intuition, pendulum dowsing
Energy, transmuting energy
How crystals work, crystals in technology, crystals in healing
Cleansing crystals
Protection, Grounding
Crystal energy experience
Crystal healing: physical pain
What is healing?
How to work with crystals part 1, Pendulum dowsing, selecting crystals, intuition, reference books
The Energy System, chakras, what, where, why, which and how, major chakras, minor chakras, meridians (nadis), balance
How to work with crystals part 2, Crystal chakra sets, self-healing, healing others
How to work with crystals part 3, Laying on of stones, 17 point treatment plan, greeting, consent forms, what does the client need? Free-crystal, body gridding, quartz stars, amethyst trails, brushing aura, sealing aura
Treatments basic introduction, room, crystals, music, incense/oils, windows, floor or therapy bed/couch, colour, preparing yourself, your client
Cleansing, why, different methods for cleansing crystals, crystals for cleansing the body
Heart centre, physical, emotional, spiritual, crystals
Stress, fight and flight response/relaxation response
Programming crystals, why, how
Crystal balls, history, crystal skulls, scrying, meditation, space clearing, distant healing, earth healing, dumping
Crystal sculpts
Q & A
Attendance and practical application in class qualifies for certificate
"Having completed Crystal Healing Level One with Philip... I would thoroughly recommend this course to any one wanting to deepen their relationship with crystals. As a therapist this has given me the knowledge and practical application to add this valuable modality to my practice." Suzanne (Harmony, Hitchin)
crystal workshop, crystal course, crystal class
Register online to be kept up to date with courses, venues and dates
Philip Permutt is author of the international best sellers The Crystal Healer, The Complete Guide to Crystal Chakra Healing, The Little Pocket Book of Crystal Healing, The Little Pocket Book of Crystal Tips & Cures, The Crystal Tarot (book and card set), The Little Pocket Book of Crystal Chakra Healing and, co-written with Lyn Palmer, Sacred Stones and Crystals. His latest book The Book of Crystal Grids is Published October 2017.
He has also written An Introductory Guide to Meditation and recorded Crystal Workshop CD and many meditation CDs including The Little Meditation Album Series. Click here for more details
Crystal Healing Course Level 1. Crystal course with Philip Permutt, Saturday & Sunday weekend workshop..."Very powerful... Amazing!... I feel different from when I came - some things have changed for me and the unlimited possibilities of crystals" (Hazel, Northampton)