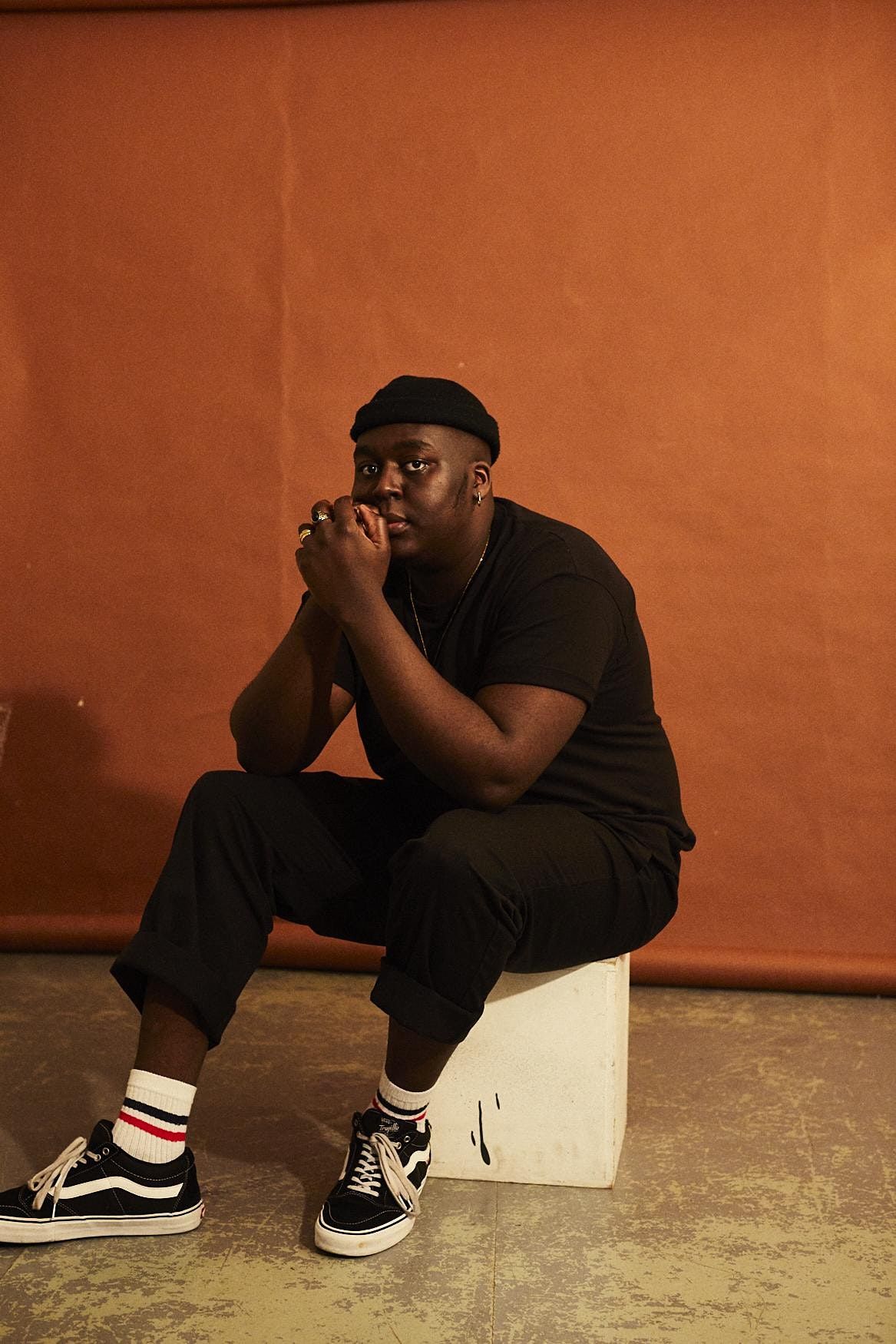 Cafe Du Nord, 2174 Market Street, San Francisco, United States
Noise Pop
Spread the word
This show is 18+ with a valid ID. Sunday, November 8th, 2020. Doors at 8PM. All sales are final.
About this Event
Noise Pop Presents:
Jordan Mackampa
With support from Babeheaven, Jensen McRae
Sunday, November 8th, 2020
___
Like the soul greats he grew up with and the grime artists he adores, Jordan Mackampa makes music to tells truths as much as entertain. His searing songs are documents of his life as an outsider, his sound a melting pot of cultures that stretch from his birthplace in the Republic of Congo to a hip hop-obsessed childhood in north London to teen years spent immersed in indie-rock in Coventry.
From his breakthrough in 2017 with the protest song "Battlecry" to this autumn's acclaimed "What Am I", hailed a modern take on Marvin Gaye's "What's Going On", Jordan's powerful message music has grown rapidly in scope and scale, soaking up new influences and becoming more complex.
A debut album due in March, produced by Dani Castelar, best known for his work with Paolo Nutini, sees Jordan scaling fresh heights, adding sumptuous strings, gospel backing vocals and grime influences on his contemporary soul fused with his Congolese roots.
"You'll hear the Congolese influence across the album," says Jordan. "It's there in the rhythms, in the swing and syncopation that ties the tracks together. It's a sound I've heard at home for as long as I can remember.
Featuring Nutini's regular string players and a bevvy of brilliant backing vocalists, the album addresses subjects including Jordan's upbringing, his struggles with his faith and, on Foreigner, a ballad that builds in to an epic immigration anthem, the racism he faced on moving to Britain from the war-torn Republic of Congo at the age of one, leaving his father and six half-siblings behind.
"My whole life I've never felt like I fitted in," says Jordan. "Growing up there were very few black families. I didn't look like anyone else. I wasn't allowed to play with the other kids.
"At school no one understood me because French was my first language. I learnt English very quickly, but if I spoke in English at home, my mum would tell me that I was losing touch with my culture. I felt torn between two worlds."
Already his ear for music was obvious. Watching children's TV shows, he would sing back the theme songs without missing a note, to his mother's astonishment. By four, he was mimicking his mum singing in church and, at home, entertaining her with renditions of Motown, Michael Jackson and Whitney Houston songs.
At eight he was writing poetry and by 12 setting it to songs written on an acoustic guitar he'd got for Christmas. Out of his mother's earshot, he was also falling for hip hop, sneaking in to the living room to listen to Jay-Z, Wu Tang Clan, Busta Rhymes, Missy Elliot and more.
Moving to Coventry for secondary school when his mum got a new job, Jordan shone at music and performing arts. He joined a youth club where where he became the go-to guy to lay down vocals for local DJs and rappers and won a place to study popular music at Northampton University.
There he fell for indie-rock and formed and fronted his first band. Briefly he thought rock might be his calling, but in his final uni year found himself turned on to folk by James Vincent McMorrow, Ben Howard and Nick Mulvey and began making regular trips to London to perform at open-mic nights.
"I was like a sponge soaking up all these different types of music," says Jordan. "I didn't think in terms of genre. I just loved being moved by music."
"Physics was recorded in various places, from the basement studio at Universal to a mate's garden shed," says Jordan. "It was folky but also influenced by me rediscovering the classic soul that my mum had played me as a kid."
From the moment Physics appeared in 2016, Jordan's ability to connect with an audience was obvious. "Yours To Keep", the EP's stunning centerpiece, soared on Spotify having featured on New Music Friday, and saw the newcomer compared to Michael Kiwanuka and Marvin Gaye.
By 2017, Jordan had moved on from acoustic singer/songwriter by fusing his folky soul with the funky rhythms of his Congolese roots and influences from both indie and grime. 2018 saw yet another leap on with the release of the stunning Cam Blackwood (George Ezra, London Grammar" produced single "One In The Same", which set a plea for human interaction in tech-obsessed times to his sunniest song to date.
Performing "One in The Same" at festivals resulted in a revelation – the once smartly dressed singer abandoned his suit jackets, trademark fedora and shiny shoes. In his everyday clothes – t-shirts, trainers, a now omnipresent beanie – he felt a new-found freedom on stage.
"I call it the day I chose to change hats," laughs Jordan. "I was at a festival in Germany and decided I didn't want to wear a crisp, white shirt anymore. It was hot and I was tired of changing. What I realized was that I no longer needed a stage persona. I had to be the real me.
"That goes back to my love of grime – artists like Skepta, Little Simz, Wretch 32, Ghetts, Kojey Radical... too many to mention. I love their honesty and attitude. They encouraged me to ignore what other people thought and ultimately believe in myself.
"That gig was by far the best I'd ever played. I had never felt more comfortable on stage or more connected with a crowd. It was as though I was starting over, as a new man and a more confident musician."
The new Jordan was finally ready to record his debut album, but first he had to find the right producer. Top of his wish list was Dani Castelar. At a studio in Valencia, the pair hit it off straight away.
"We'd talk about music for hours while eating incredible tapas," says Jordan, a long-time Nutini fan. "Dani helped me hone my sound but mostly he encouraged me to do what felt right. He taught me to ignore rules and go with my gut."
Babeheaven's previous biog arrived entrenched in folklore and rare-meeting points – very much a showreel of moments akin to snapshots from MTV's Making The Band. All of them true, of course, but for a group several years on from their debut release, all ready to be shoved aside if not updated for the west London duo's next step from under (or at least near) the Westway and toward cult treasure.
"So why don't we make up a new story," suggests Jamie, who handles the production and lead guitar side of things in the group, when mentioning their previously trodden ground. Like what? Lead singer Nancy bursts into action.
Really, the truth is that Nancy and Jamie are the best of friends: a stone-cold duo who riff seamlessly back and forth with an absolute knowingness of one another. It's the kind of shared carefree joy and outrageousness hilarity that can only come from knowing each other for over a decade. Their love of music comes from each of their families. On Jamie's side, his dad: who got him into US rap – the big producers, mainly; people like Pete Rock, who inspired him to pick up an MPC and get into sampling and programming drums, such as the ones you'll hear on a Babeheaven record. Then, in Nancy's corner, her dad: who progressed from playing in a funk band, to being into blue-eyed-soul, to writing jingles for TV ("Green planet, or whatever").
Essentially, to be around the Babeheaven extended family's back catalogue of interests is to leave no stone uncovered. The pair work out of the same studio where Nancy's dad writes his jingles, in among a potpourri of dusty old records, books, strange VHS releases, odd-shaped guitars – loads of junk, basically. It's a curiously endearing place – not too far from the Portobello Road but just far enough, and definitely not on the tourist side – with a small winding staircase running from each of the building's three floors.
Here, in this eccentric and singular building, is where they penned their first releases. Stuff like "Friday Sky", "Your Love", "Heaven" and "It's Not Easy". Though relatively light on the outside, these are deeply personal songs – the latter two especially, as they concern the passing of each member's mother; first Nancy's, then Jamie's. They're strong evidence of how Babeheaven balance and shift weight around with ease, in the vein of groups like Cocteau Twins, as well as the closeness between the two of them.
These tracks launched Babeheaven into the world, earning them tour supports with the likes of Loyle Carner, Formation, Nilüfer Yanya and The Japanese House and their own show at the Scala. But that's only the beginning. Earlier this year they released the magnificent EP 'Circles', featuring the magnificent lead single "Fresh Faced" which is exactly the type of tune that replay buttons were invented for. Fizzy and addictive, meandering between the lows and the highs, it captures Babeheaven's knack for writing a pop-tune that easily veers into red-eyed, perhaps stoned bliss.
Predominantly, Nancy says the lyrics on the 'Circles' EP are about relationships. Or more precisely "friendships, family, losing touch, finding touch and about working out where you stand with people."
She's got a close knit family – she texts her grandmother every day. And so, she says, those are the most prominent things in my life right now. She continues: "When I write, it's quite therapeutic. Like, what is going on right now, that I can get out of my head in a really nice way." Lyrically, she's read a lot of Leonard Cohen poems, is a big fan of Bjork ("she writes songs about throwing rubbish off the sides of cliffs") and has a seemingly never-ending well of remembered lyrical references.
Following the release of "Seabird" earlier this year, Babeheaven's next release is "Jalisco". It's a place in Mexico. Why name it after there? "I just came back from there," Nancy explains. So is that what it's about lyrically? "Not at all! I think, lyrically, this song is not about me personally." But, she says, it's about the persistence of trying and trying through a relationship that doesn't seem to be working. "It's quite tragic," says Jamie, smiling. Then Nancy follows on: "It's a tragedy!"
In practice, that tragedy of "Jalisco" has ended up as a warm and enveloping track, with as much rough edges as there are sweet. Think of it like being caught up in the musk of a heat-wave, taking a dab of sugar, then a dab of salt. Or to be more distinct about it: how it feels to be in the throes of love, even when you keep getting knocked back down and getting up again for more. It'll be followed later this year with an EP. For now though, get wrapped up, tune in and zone out.
Jensen McRae
—
iCause.com promotes public events for free and helps event organizers connect with nonprofits to attract more participants like you.
Additionally, the iCause Global Foundation enables good people to fund great causes around the world. Together, our impacts are limitless!