The Cremorne185 London Road, S2 4LH Sheffield, Sheffield, United Kingdom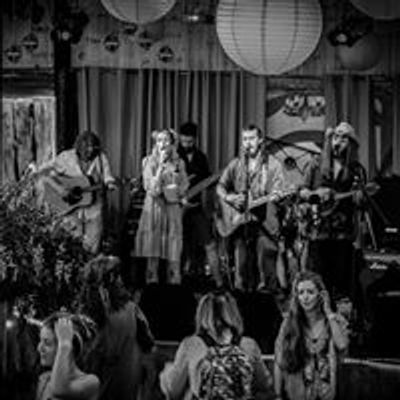 Ramble Gamble
Spread the word
The Folk Night Live Collective takes over The Cremorne in Sheffield!
FREE ENTRY
Doors: 7.30pm
For more information on all bands and events, check out
www.smallcogmusic.co.uk
.
---------------------------------------------------------
A night of Alternative-folk with...
Ramble Gamble
The Extraordinary Ramble Gamble are Matt Hercock, Jonny Lavin, Chris Logan, Sian Hart, Ben Green and Slim Joe Jackson. They formed over 5 years ago and have been touring the UK ever since, playing festivals, clubs, pubs, car parks, fields and everywhere in between. Having started out as a folk-pop trio, they have evolved into a 6-piece alternative-folk machine, with the sole purpose of performing their energetic live show and spreading their tales of pirates, cowboys, werewolves and demons, just to name a few.
Ramble Gamble released their debut EP, Broken Stones, in 2017, followed by a live EP, Poor Old Jack(Live & Unwashed), in 2018. With a self-recorded follow up to be released in 2019, they are set to unleash their strange and compelling sound on the world once again.
Facebook -
https://goo.gl/L6kyoC
Instagram -
https://goo.gl/SLKD5q
Spotify -
https://goo.gl/ywWEUf
SoundCloud -
https://goo.gl/jseUT6
Momma's Days Are Done
A band to end all other bands.
In the depths of Mount Doom with a little help from Optimus Prime they breathed the spark of life and the souls of music into four strange homunculi.
Forged from lightning, old A-Team episodes and the roots of Yggdrasil itself this band was known as Momma's Days Are Done.
Momma's Days are an original alternative Folk & Blues band with great harmonies, catchy lyrics and memorable songs. Described as a bit like a cross between Creedence Clearwater Revival and Bob Dylan and regularly featured on BBC Radio.
Facebook -
https://goo.gl/LVxbkC
Instagram -
https://goo.gl/xdEGUH
Spotify -
https://goo.gl/9Sme24
ChrisCooperBand
An Indie/Folk/Americana band formed in 2010 in Scunthorpe playing melodic folk rock, mixing in harder Indie-influenced driving chords with a pinch of Americana and southern gothic, giving opportunities to explore musical directions and not be limited to genre specifics, making them sound like no other British band around now.
Currently comprising 2 acoustic guitars and double bass they are now playing dates to support the launch of their first new album in 4 years 'The Glorious Sins' which is due for release early 2019..
Chris Cooper - Guitar/Banjo/Ukulele/Vocals
Darryl Ebbatson - Guitar/Samples/Vocals
Chris Logan - Double Bass, Bass
Facebook -
https://goo.gl/Dy1hDG
Instagram -
https://goo.gl/o16ri8
Spotify -
https://goo.gl/K23qwM
SoundCloud -
https://goo.gl/muL2Sx