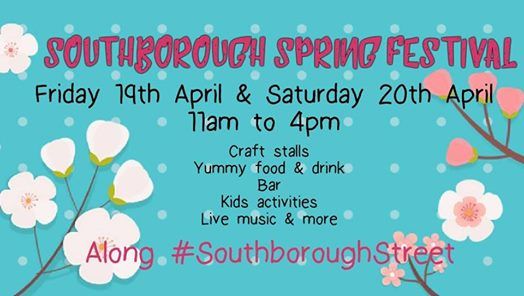 London Road, Southborough, United Kingdom
Southborough Street
Spread the word
Friday 19th and Saturday 20th April, 11am to 4pm both days.
Spring Festival taking place with lots of local businesses in Southborough Street. Live music, a bar, yummy food, kids activities, craft stalls. Support local independant businesses!
Live music from local performers will be happening from 11am to 4pm both days at the Mother Goose Busking Spot (outside Mother Goose Estate Agents).
Activities:
- Arts and crafts happening both days at Arty Farty Retreat, including origami and a music percussion session on the Friday, laughter yoga and flower crowns on the Saturday!
- Easter Egg hunts happening outside of Harlequin Out of School Club.
- Explore Learning will have some fun number games for you to join in with.
- Gill and Susan will be holding craft activities and storytelling sessions on the Saturday at 10.30am and 11.30am at Southborough Library!
- Easter afternoon teas at the Earl Grey Tearooms by booking only.
- Face painting by Cheeky Cherries will take place on Friday.
- Once Upon a Wish Events princesses will be wandering the high street for a superb photo opportunity!
Refreshments:
- Jerk Shack Chicken at the Arty Farty Retreat
- Tonbridge Panto Bar at the Arty Farty Retreat
- Indian food stalls at Thomas Camera Services
- Pies the Limit at Joe's Barbers
As well as the fabulous cafes on offer in Southborough: The Craft Cafe; The Earl Grey Tearooms; Southborough Cafe; The Litlle Play Cafe.
Stalls (At Arty Farty Retreat and all along the high street!):
Southborough SOS
Usborne books
Photo Impressions
Barker's Bazaar
Sockilicious
Happy Bunny Creations
Hadlow Home Decor & Gifts
Mindful Makes
Claire's Accessories
The Little Emporium
Made with Love
S.tuck in a Pickle
Vintage Bird Feeders
Homemade Dog Biscuits
Turn & Burn
SAm's Sewn Crafts
Slimming World