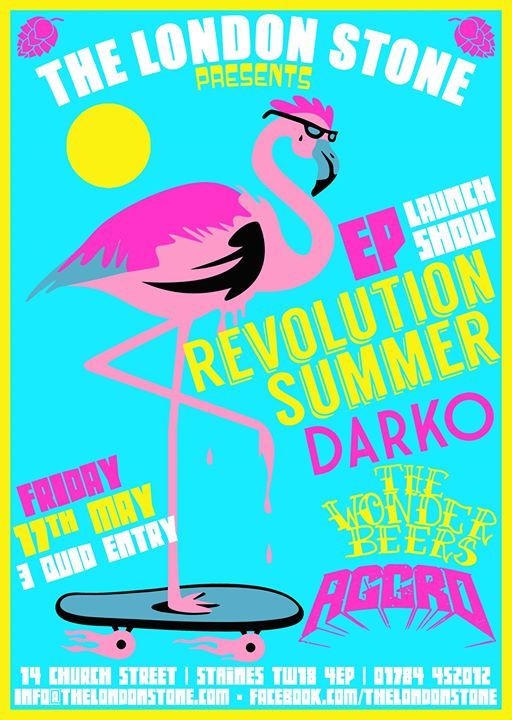 London Stone, 14 Church Street, TW18 4EP Staines, United Kingdom, Staines, United Kingdom
Circa '94 Promotions
Spread the word
Hot on the heels of their Debut EP release in March, Revolution Summer are throwing a party to celebrate... and their bringing their friends in Darko, The Wonder Beers and Aggro to join the festivities at The London Stone, Staines!
Revolution Summer
Hailing from the Surrey suburbs, Revolution Summer were born in early 2017 and have since shared the stage with Darko, Authority Zero, The Copyrights, Almeida, Sombulance, Krang, Tree House Fire, Resuscitators and the SLM.
The band entered Stakeout Studios with long time friend Jason Wilson in early January 2019 to record their debut 7-Track EP featuring songs about corrupt Governments (You Can't Deny/(Un)civilised Society), Connecting to loved ones who suffer from Mental Health (Retransmission), Break Up's and Heartache (I Heard You Paint Houses) and A Love letter to Punk Rock (Three Cheers).
The 'Self Titled' debut EP is available to stream now!
https://open.spotify.com/album/6y67bXG7pukRxrrIpmNEak?si=cKgYJl63T2OuwMeYux5ZQw
https://itunes.apple.com/gb/album/revolution-summer/1455021174
Darko
Melodic Hardcore Punk! Darko are 5 guys shredding hi-octane punk rock for anyone who wants a listen.
The Wonder Beers
The ULTIMATE Drinking band! - The Wonder Beers are back in Staines to preach Beers, Shots, Kebabs and.... Toilet Epiphany's?...
Aggro
Their first ever show, and featuring members of Miss Pink Shoes and Tree House Fire like you've never seen them before... BIG riffs and Rowdy vocals for fans of Pantera, Killsiwtch Engage and Lamb Of God - Get down early and don't miss out!