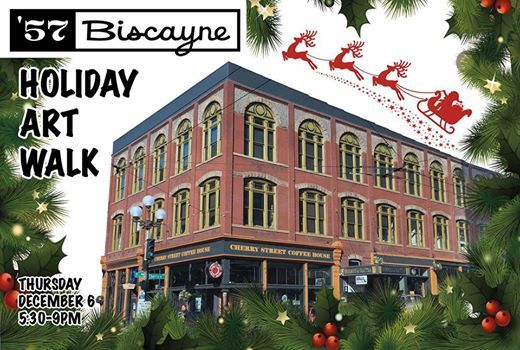 '57 Biscayne Artist Studios110 Cherry St, Seattle 98104Karte anzeigenKarte verbergen, Washington
'57 Biscayne Artist Studios
Spread the word
Looking for unique holiday gifts – a one-of-a-kind present for that special someone or hard-to-shop-for friend?
'57 Biscayne has you covered.
From 5:30 p.m. to 9 p.m. on Thursday, Dec. 6, '57 Biscayne, the artist collective located on the second and third floors of the historic Good Arts Building, 110 Cherry St. in Pioneer Square, will host its annual Holiday Extravaganza.
Shop local for handmade jewelry, paintings, prints, tintype photos, ornaments, hats and handbags, much of it made on site– like Santa's elves, only for adults. Downstairs, there are more art studios, a vintage boutique, a spot for coffee to keep shoppers energized and a cocktail bar for holiday cheer.
Visitors can peruse open studios of resident artists, including Peggy Foy, Jeanie Lewis, Eric Eschenbach, Lindsay Peyton, Liz Ewings, Chelsea Bird Hoard, Richard Graham, Hilary Burnett, Elissa Buchalter, Anastasia Agafanova, Sarah Dillon Gilmartin, Sh'Kala Warren, Lin-Lin Mao, Ieva Ansaberga, photographers Libby Bulloff and Stephen Robinson of Henrietta's Eye, and Mari Nelson and Misbah Rehman of M&M Jewelry Studio.
Guest vendors will also be on site, like haberdasher Kelly Christy, calendars and prints by Julia Y Illustrations, gift wrap and cards by Megan Noller Holt, and jewelers Stenhouse Studio, Tegan Wallace Design, Samantha Slater Studio, La Objeteria Jewelry and Porpe Artifacts.