Windmill Brixton22 Blenheim Gardens, SW2 5BZ London, United Kingdom, Wimbledon, United Kingdom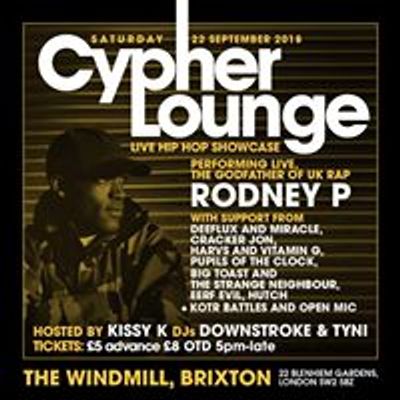 The Cypher Lounge
Spread the word
We are really spoiling you lot with the headliners... swiftly following the very successful Verb T event earlier this month, we have another Cypher Lounge exclusive!! One of my favourites and the absolute legend that is Dabbla will be touching down to the Windmill on 12th January 2019 as part of his UK tour. With DJ Frosty in tow and support from a ton of amazing acts, this is one you do not want to miss. Make this one of your first dates for the diary in 2019! As per norm we will have open mic cyphers for you to get involved and "host with the most" Kissy K will be taking charge of proceedings. Tickets on sale now from We Got Tickets and Big Cartel.
With support from:
*** GIZMO - RUM COM ***
*** GEEBAG - 3 TIMES EOW CHAMPION ***
*** OLIVER SUDDEN ***
*** BENOFFICIAL & PROZAC - 5 STAR ANARCHY ***
*** LEFTY ***
*** SKRABL ***
*** THE COMPOUND - KEMASTRY, WUNDROP & VITAMIN G ***
For the last decade, there has been a voice on the UK rap scene that has slowly been building both in terms of its strength and its following. Ever since Dabbla first cut his teeth on the DnB scene back in 1996, the trajectory of his career has been headed in only one direction, thanks to a versatility and character that breeds an infectious sound; a sound which has ravaged stages and studios across the UK and Europe. Dabbla first came to prominence alongside his crew LDZ back in the early-00's, while based in Manchester, before they scored underground success with the grime lampooning/homage Lips 2 Da Floor in 2006.
Since then he has formed two further crews – Dead Players with Jam Baxter and GhostTown, who have scored two successful album releases on High Focus Records, and Problem Child with Sumgii, Dubbledge and Illaman, who have been knocking out sporadic releases on Dabbla's co-owned Potent Funk imprint. 2016 saw the long-awaited arrival of Dabbla's debut solo LP, Year of the Monkey, which was released to critical acclaim on High Focus Records. The album was the result of a decade's worth of work and featured some heavy hitting tracks and videos, including Psychoville, which has since racked up over 4 millions views on YouTube.
The album also gained the attention of comedian Romesh Ranganathan and as a result, Dabbla was headhunted to create 16 exclusive tracks for Romesh's new US TV series 'Just Another Immigrant'. Now he readies himself to release his sophomore solo album, Death Moves, which promises more of the quality hybrid rap shit that has earned him plaudits from fans, critics and peers alike. Six tracks from the album have already surfaced and along with their accompanying videos, they have helped push the message that Dabbla is only going to continue rising.
Doors open 7pm, open mic from 8pm, live acts from 9pm.
Come join us at the Windmill Brixton on Saturday 12th January.
Advance tickets from £6, more on the door